Nanjing, an ancient capital of six different dynasties, is getting even more elegant with time-honored history and glorious culture adding additional brilliance to its present splendor in a chilling winter. Nanjing in winter is a city with simple and unsophisticated beauty, sometimes peaceful and quiet and sometimes festive and lively.
Visiting local museums is the best way to look into a city, that's why museums carrying historical and cultural records of Nanjing cannot be missed. On a trip to Nanjing in winter, visiting local museums would be a perfect choice to stave off outdoor chills while exploring how Nanjing looked like as an ancient capital.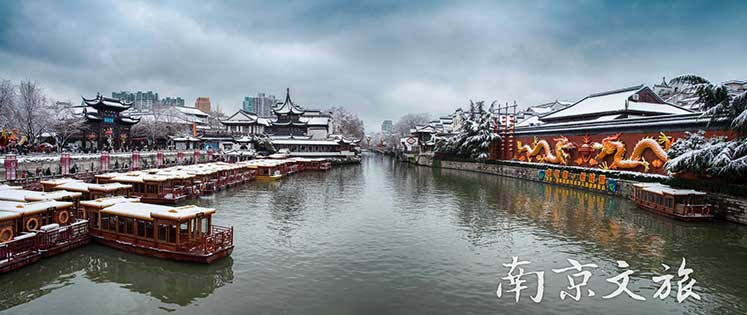 Snow Scene of Nanjing Confucius Temple
As a Chinese idiom goes, "Sow in spring, develop in summer, harvest in autumn, store in winter", winter is the best season for health preservation with hot spring, a gift from the Creator, undoubtedly one of the best experiences in a cold winter. Nanjing, known as a "hot spring destination," has a wealth of hot spring resources for your selection from outdoor hot springs/private baths, spa homestays (e.g. Tangjiajia Village) to spa hotels.
Ziqing Lake Hot Spring Resort
The yearend coincides with the traditional Chinese festival, a celebration of family reunion and farewell to the old and bringing in the new. Folk entertainment in Nanjing is steeped in culture and history, essentially gorgeous but not frivolous, pure but not vulgar. The millennial festivals and customs remain not only a way of people in Nanjing praying for good luck and celebrating the New Year, but have become the city's distinctive calling card. What's waiting for you is a worthwhile experience of Spring Festival Bell Ringing on Chinese New Year's Eve, Qinhuai Lantern Show in the first lunar month and the exhibition of Buddhist relics.
Qinhuai Lantern Show
Nanjing remains a destination of informative museum visiting, relaxing hot spring experience and warm and lively festival revel even in a winter when people are prone to the feeling of remoteness and bleakness.
Learn more:
Explore Hot Springs in Winter in Nanjing
Experience Nanjing's Winter Festivals as Locals
Travel Tips:
Winter in Nanjing, a long season, generally starts from late November and ends in next February. Thick cotton turtlenecks, down jackets and thick pants are recommended to address the day-to-night temperature fluctuating from 11°C to -1°C in a damp and chilling winter. The monthly average temperature of Nanjing from late November to next February is listed as follows for your reference.
| | | |
| --- | --- | --- |
| Month | Daily Average Temperature (Maximum) | Daily Average Temperature (Minimum) |
| Late November | 10℃ | 5℃ |
| December | 11℃ | 3℃ |
| January | 7℃ | -1℃ |
| February | 10℃ | 4℃ |