Encountering

with Nanjing in Summer - New City Appearance at Night in Summer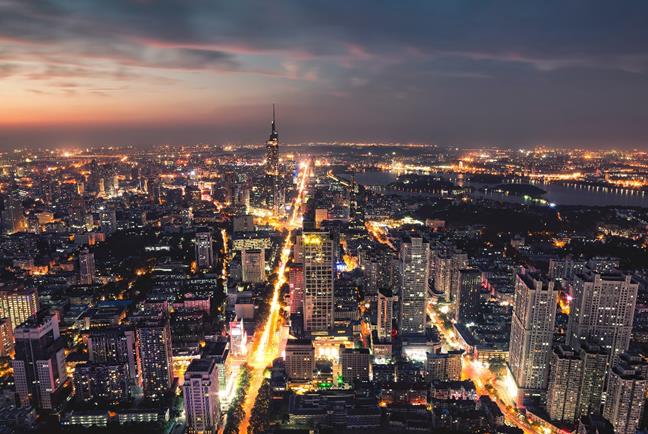 (Photo: Nanjing views at night; Source: 699pic.com)
Nanjing's cityscape has long been very different from the pas. Now it impresses people with its modern structures full of light sources rather than boats and poems in a dark mist. However, the elegance of ancient Nanjing architectural design has been passed down to create a distinctive cityscape. Today, the appearance of the new Nanjing city is dominated by modern structures lined up in a row, but they still reveal the grandeur of the royal architectural design as well as the charm of the local culture. It is recommended that you stroll through the streets with your friends on a summer night and enjoy the city's new appearance which is a duo of vintage and modern styles.
A visit to Xinjiekou can provide you with a good opportunity to see the new appearance of Nanjing City. You can enjoy the brilliant lights and special charm of modern fashion at night amidst the crowds.
Located in the heart of Nanjing, Xinjiekou is known as the "top Chinese shopping district" thanks to its centuries of operation. Although Xinjiekou covers a small area, modern commercial buildings are clustered here. The landmark of this area is the bronze statue of Sun Yat-sen on Xinjiekou Plaza. Xinjiekou consists of various blocks, providing services related to food, shopping, finance, bars, folk customs and antiques.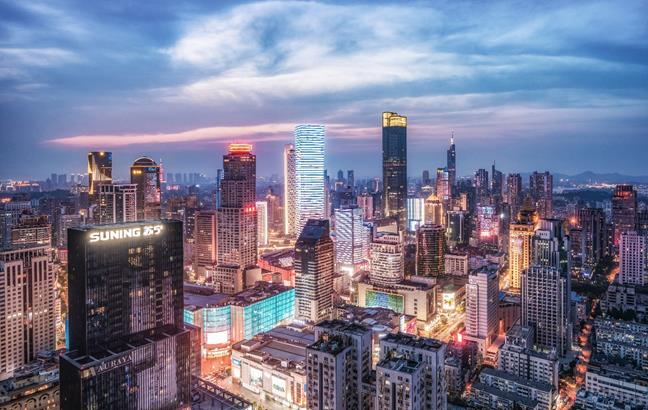 (Photo: Xinjiekou views at night in summer; Source: stock.tuchong.com)
Deji Plaza focuses on fashion items and luxury goods. Sometimes it can be a destination for a short-lived social media craze. It is one of your must-visit places in summer. Grand Ocean is a department store that sells affordable goods. The second-hand stores on Xihe Plaza sell a wide variety of antique items worth hunting for. New World Department Store operates a porcelain experience store, which sells porcelain goods enough to satisfy consumers, including bowls, plates, dishes, cups and ornaments. Xinjiekou is also filled with different food outlets and popular destinations on social media.
With colorful neon lights, the night scene of Xinjiekou is even better than the daytime one. It epitomizes Nanjing's urban prosperity and is a frontier of spending, as this shopping district concentrates countless malls and food and entertainment services at all price levels. Visitors who come here will learn about not only the charm of Xinjiekou itself, but also the potential of Nanjing's development.
Zifeng Tower is a good destination to observe Nanjing at night.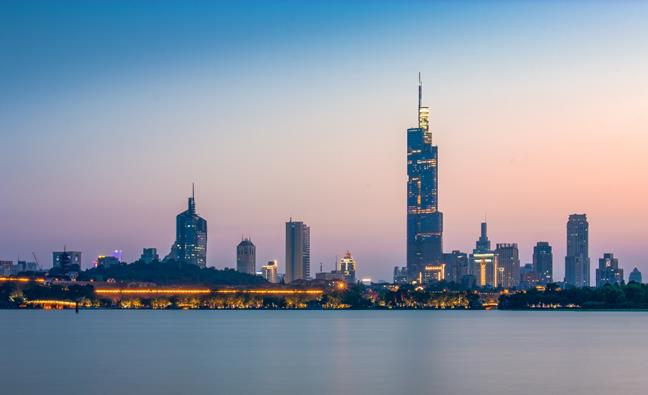 (Photo: Zifeng Tower; Source: 699pic.com)
As one of the landmarks of Nanjing, Zifeng Tower ranks first in Nanjing and seventh in the world in terms of height. It is a super skyscraper independently driven by Chinese from investment and construction. It has been honored with awards such as the 7th Architectural Society of China (ASC) Excellent Structure Design Award and the 17th China Civil Engineering Zhan Tianyou Award.
With a height of 450 meters, Zifeng Tower boasts the widest panoramic view in Nanjing. You can enjoy the night scenery of the whole city in this building. Its observation floor is on the 72nd floor, where the height from the ground is 288.6 meters. The night of Nanjing is mesmerizing by virtue of its iconic scenery, its cityscape, and its dazzling lights.
Nanjing Eye Pedestrian Bridge is another good place for you to show off on social media.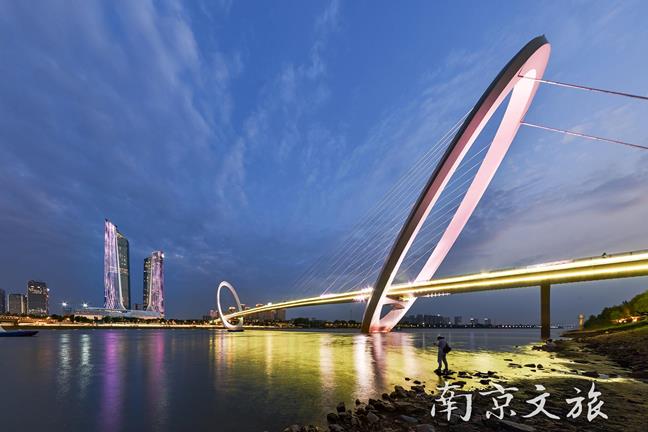 (Photo: Nanjing Eye; Source: Nanjing Municipal Administration of Culture and Tourism)
Nanjing Eye Pedestrian Bridge is a structure over the Jiajiang Waterway (of the Yangtze River) in Jianye District that connects Jiangxinzhou and Hexi. It is the first sightseeing pedestrian bridge over the Yangtze River to serve both as a transport facility and a landscape. It was completed and put into use in August 2014. It is a girder cable-stayed bridge consists of double towers, double cable faces, steel towers and steel boxes. It has a total length of 827.5 meters, with a main span of 240 meters, a main bridge of 531.5 meters and an approach bridge of 296 meters. The two giant circles connecting the bridge are like alien angel wings. The sloping steel cables on both sides are reminiscent of the strings of a harp, and the pedestrians on the bridge are plucking them.
It's one of the destinations that feature Nanjing views at night. When night falls and the bridge is lit up, the illuminated structure becomes a source of reverie. Doesn't it look like a pair of big bright eyes? You can have a cozy night tour along with the changing lights of the Nanjing Eye. For example, you can take a walk, enjoy the breeze and get a view of the river. If you are high up, you will find Nanjing Eye Pedestrian Bridge so prominent in the mass of light sources, if not, then the first thing that catches your eye must be Nanjing international Youth Cultural Centre.
Nanjing has many classic night scenes, such as the lights and boats on the Qinhuai River, the starlight reflected in Xuanwu Lake, the charming ancient city walls at night, and the lighted promenade along the Yangtze River. They are great, but don't miss out the new Nanjing nights besides them. You should also enjoy the downtown lights, the magnificent cityscape, and the contemporary architectural design.