Searching

for Plum Blossoms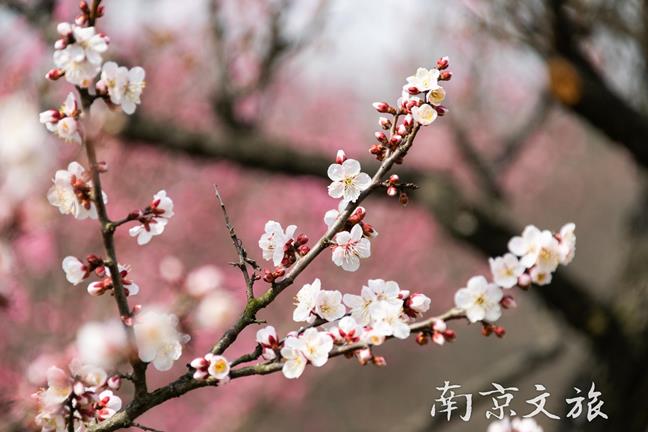 (Meihua Hill, Ming Xiaoling Mausoleum. Courtesy of Nanjing Culture and Tourism Bureau)
The plum blossom, the city flower of Nanjing, has historically been one of the favorite flowers of the Chinese people. There is a verse saying, "Among all flowers who dare to blossom in icy cold, the plum tree stands out as the harbinger of spring." It speaks volumes about the lofty, unyielding and daring character of the plum tree. Plum blossoms feature sparse flowers amidst slanting branches and the floating faint scent. Imagine tiny, delicate plum blossoms sparsely dotting thin branches, simple, light-colored, and elegant, and dancing unyieldingly in the cold wind. The plum blossom resembles the pure, elegant, lofty spirit of recluses the ancient Chinese people pursued. For this reason, appreciating plum blossoms is not only about enjoying its charming postures, but also about admiring its character and the plum culture it represents.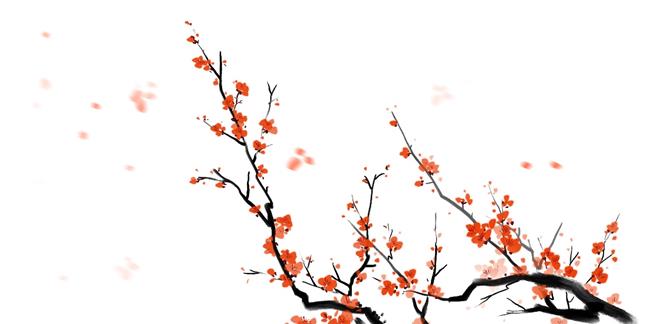 (Plum blossoms in a traditional Chinese painting.)
In Nanjing's Xuanwu Lake scenic area, the clear lake is surrounded by a large swathe of plum forest. Plum blossoms of varying shades, scarlet, rose-red, pink-red, light pink, pale pink, white, and green, dot the branches, swaying brilliantly in the wind. The lake, hill and plum blossoms set off each other, constituting a very bright, lovely sight. The Plum Tunnel on the Liangzhou Islet, Xuanwu Lake would become a plum blossom boulevard during the blooming season. Strolling down the tunnel, visitors will be greeted by falling petals that redden the sky, as if wandering in a wonderland.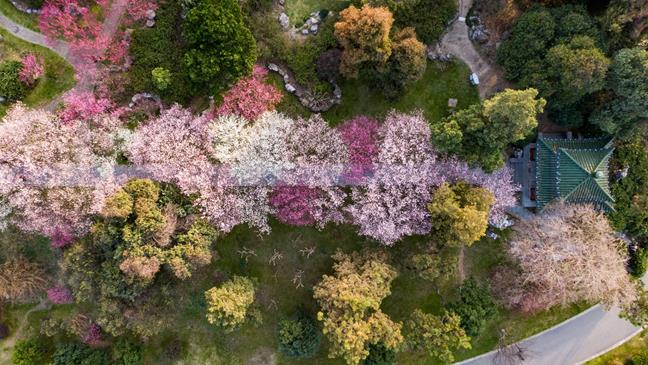 (Cherry Avenue.)
On the plum slope in the north part of Liangzhou, plum trees vie to blossom in the spring breeze. Different shades of red undulate with the rolling slope, presenting a Rosy Plum Slope, one of the four unique views of Xuanwu Lake. On the Liangzhou Islet, there is also an ancient plum tree planted in the Ming Dynasty 600 years ago. It still has vigorous branches laden with double-petal plum flowers. In every blossoming season, flowers would dot the black, forceful branches of this ancient tree, showing its vitality in spring.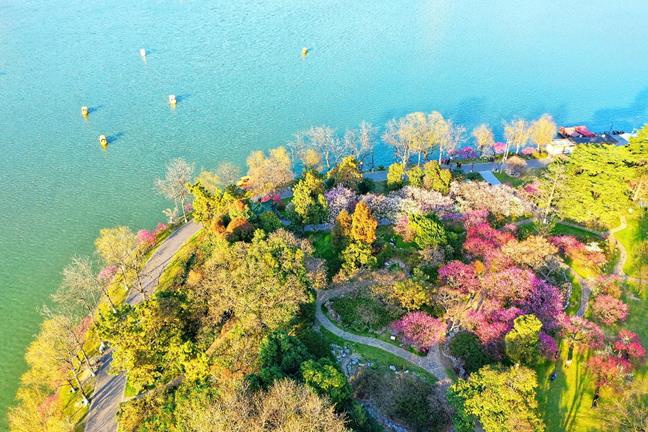 (Plum blossoms at Liangzhou Islet, Xuanwu Lake.)
Unlike waterside plum blossoms at Xuanwu Lake, Meihua Hill, or Plum Blossom Hill, billed as the "No.1 plum hill in the world", in the Ming Xiaoling Mausoleum, offers another flavor of spring. In spring, the hill would become a sea of plum blossoms of varying cloudy, rosy hues when more than 13,000 plum trees gradually bloom in the spring breeze. Among the more than 300 varieties of plum tree discovered across the world to date, more than 200 varieties can be found on Meihua Hill. Many are pretty rare varieties. Due to its location in the Ming Xiaoling Mausoleum, a UNESCO World Heritage Site, where historical garden buildings are culture-rich and antique, Meihua Hill offers a visual pleasure and cultural impact to visitors who admire plum blossoms.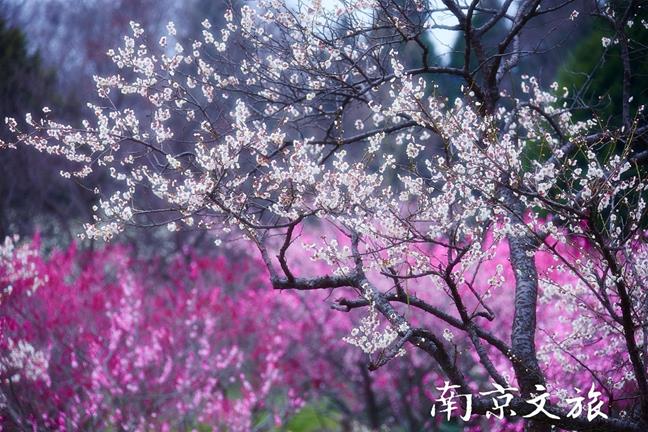 (Meihua Hill.)
In addition to the Plum Valley, the Wenwu Fangmen Gate is also an ideal location for enjoying plum blossoms. The vermilion city wall exudes a strong historical depth and breath. Pale yellow plum blossoms sparsely dot the branches, full of vigor and vitality. The yellow blossoms and red wall, a contrast of vibrancy and antiquity, constitute a Chinese-style painting that touches viewers' heart and transporting them back to the ancient Jinling.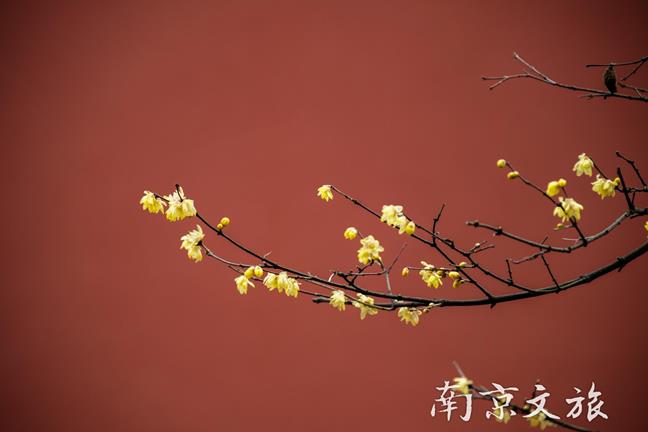 (Plum blossoms, Ming Xiaoling Mausoleum. Courtesy of Nanjing Culture and Tourism Bureau)
Appreciating plum blossoms at Gulin Park offers another refined pleasure. Though there are less plum trees in Gulin Park than on Meihua Hill, the red blossoms, like stars, bloom here and there with abandon, covering all over the slope layer upon layer, forming a very romantic sight. When you walk through the plum trees to admire buds yet in full bloom, it is like drifting in a sea of flowers, red, pink, green or white, which emit a unique fragrance. Such a sight would remind visitors of a verse on plum saying, "She has no desire to scramble for spring. Never mind the other jealous flowers." It is quite a refined pleasure of admiring plum blossoms.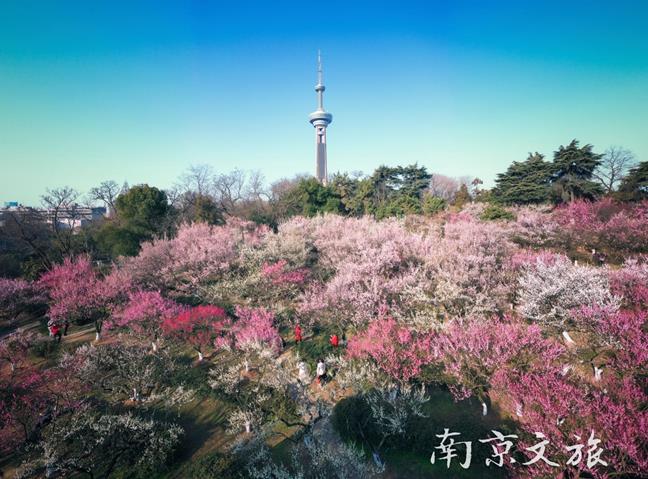 (Plum blossoms in Gulin Park. Courtesy of Nanjing Culture and Tourism Bureau)
The Qingyun Pavilion in the park is the perfect place for enjoying plum blossoms. There, visitors can overlook the sea of flowers from a height for a better look at plum blossoms flying all over the hill and emitting wafts of fragrance. What a romantic sight!
Nanjing is a must-visit place for admiring plum blossoms. Here, visitors may see blossoming plum trees brighten the city like rosy brocades at various sites.