Jiming Temple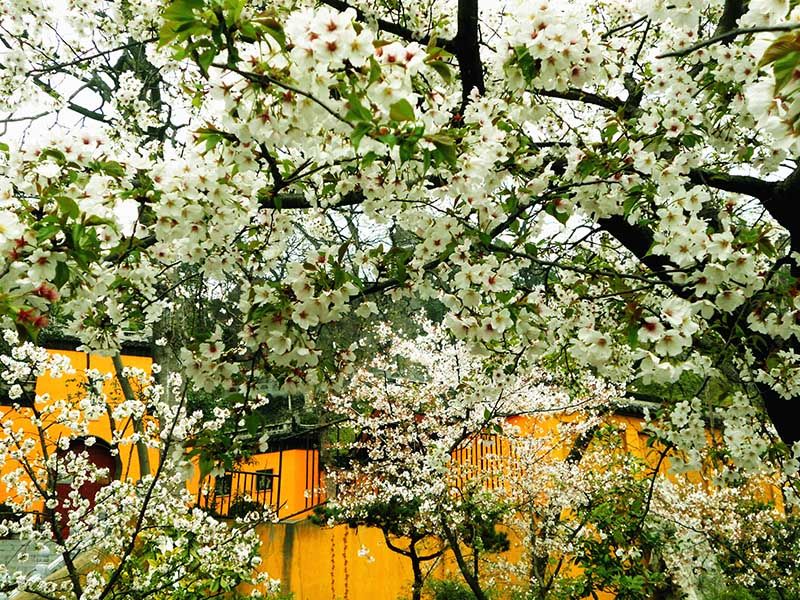 Source by Jiming Temple
Jiming Temple – a graceful ancient temple
The Jiming temple (temple of cock's crow in Chinese) is a very renowned Buddhist temple in Nanjing, a place of harmony and serenity. It was built along a hillock in the Ming Dynasty in 1387. The merging of the incense smell together with the calm and relaxing ambient and the bright yellow-orange color create a nice atmosphere. After making your way up to the top, there is an eight floor Pagoda, with fascinating Buddha statues and breathtaking view over the Xuanwu Lake, Purple Mountain, city wall, city center and the Yangtze River.
Tips:
The monks in the temple are all females (they're called 'nigu' in Chinese).
There is a very famous vegetarian restaurant located at the top, serving top 1 vegetarian noodle in town.
At the entrance you will be given three sticks. Burn the sticks to the 4 directions (North, South, East and West) in the courtyard and pray. It will bring you good luck.
The temple holds the mystery that it might turn your wishes of happy relationship (marriage) real.
Tickets:
RMB 10 (including 3 sticks for praying)
Address:
No.1 Jimingsi Road
By metro:
Metro Line 1 Gulou (鼓楼) Station Exit 4B. Walk backward, turn left at East Beijing Road (北京东路),continue walking and turn left at the third crossing, turn right immediately, walk for 20 meters and turn left at Jimingsi Road, walk for 500 meters. Total walking distance: 1250 meters.