Nanjing's

History and Culture
Nanjing History
Nanjing on the timeline
In 472 BC. The State of Yue constructed 'Yuecheng', which was the beginning of the Nanjing city.
In 317 AD. The Eastern Jin Regime established its capital here. Some relics of luxury residential courtyards still exist.
In 420 AD. The Southern Song Regime started from here. For the next 59 years, the dynasty successively went through 8 emperors.
In 479 AD. Southern Qi Regime only existed for 23 years. Buddhism was popularly welcomed and reached a peak.
In 557 AD. Although the national power of the Southern Chen Regime weakened, the Buddhist culture continued to develop.
In 937 AD. The short-lived Southern Tang Regime met a temporary prosperity, especially with its painting arts.
In 1368 AD. At the Ming Dynasty, Nanjing first time in history took the crown to be the capital of China. The world's longest city wall was constructed. National imperial examination system was developed to be exclusive for official selections, which continues for centuries.
In 1405 AD. Zheng He, China's maritime Marco Polo, led a large fleet of over 240 ships, 27,800 sailors to the Pacific and Indian Oceans. His seven voyages went as far away as Africa and the Middle East.
In 1421 AD. Emperor Zhu Di of the Ming Dynasty moved the capital to Beijing.
From 1912 to 1949. The period of Republic of China, Nanjing became the national capital again. After playing an instrumental role in overthrowing the last imperial dynasty, Dr. Sun Yat-sen founded the Republic of China in 1912 and entitled Nanjing as the temporary national capital. Sun' successor, Chiang Kai-shek, headquartered his nationalist Kuomintang government in Nanjing in 1927. The city was officially voted as the national capital accordingly. In 1949, the Kuomintang government was pushed out by Chinese Communist Party which moved the national capital to the North part of China: Beijing.
In 1937 AD. The darkest year in history when Japanese army occupied Nanjing and carried out the systematic and brutal massacre.
In 1949 AD. The People's Republic of China was established. Nanjing was officially appointed as the capital of Jiangsu province in 1953.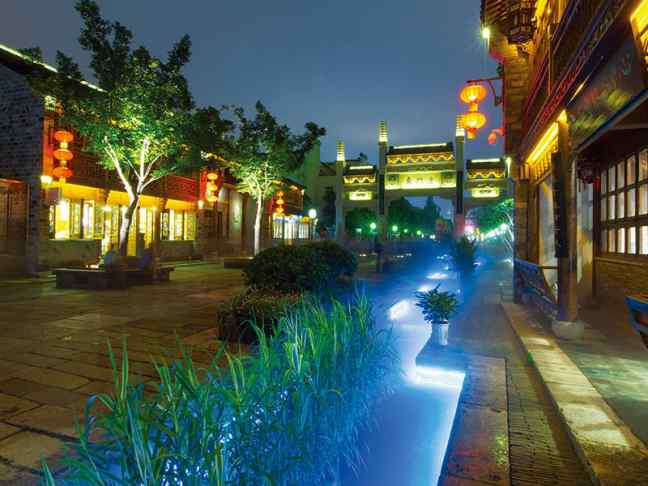 Source By: Bolan
Nanjing Culture
Being one of the four ancient capitals of China, Nanjing has always been a cultural centre attracting intellectuals from all over the country. In the Tang and Song dynasties, Nanjing was a place where poets gathered and composed poems reminiscent of its luxurious past; during the Ming and Qing Dynasties, the city was the official imperial examination centre (Jiangnan Examination Hall) for the Jiangnan region, again acting as a hub where different thoughts and opinions converged and thrived.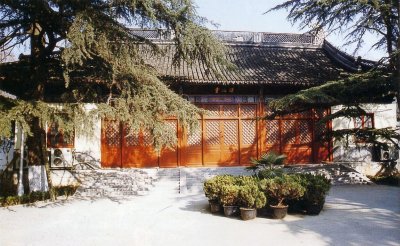 Source By: Municipal Government (Original Examination Hall)
Today, with a long cultural tradition and strong support from local educational institutions, Nanjing is commonly viewed as a "city of culture" and one of the more pleasant cities to live in China.
Nanjing Art
Some of the leading art groups of China are based in Nanjing; they include the Qianxian Dance Company, Nanjing Dance Company, Jiangsu Peking Opera Institute and Nanjing Xiaohonghua Art Company among others.
Jiangsu Province Kun Opera is one of the best theatres for Kunqu, China's oldest stage art. It is considered a conservative and traditional troupe. Nanjing also has professional opera troupes for the Yang, Yue (shaoxing), Xi and Jing (Chinese opera varieties) as well as Suzhou pingtan, spoken theatre and puppet theatre.
Jiangsu Art Gallery is the largest gallery in Jiangsu Province, presenting some of the best traditional and contemporary art pieces of China; many other smaller-scale galleries, such as Red Chamber Art Garden and Jinling Stone Gallery, also have their own special exhibitions.
Nanjing Folk Culture
As one of the four ancient cities in China, Nanjing boasts time-honored history and profound culture. Nanjing is also one of the educational and cultural centers in China, where traditional Chinese festivals are all celebrated. On Spring Festival, Nanjing people will post couplets and Door Gods, and some literati even post a picture of cock onto the door. On Lantern Festival, lantern show would be offered, Tomb-sweeping day, spring outing, and Double Ninth Festival, climbing mountains.
Nanjing Baiju Tune(南京白局)
Baiju is a prevalent storytelling and ballad singing folk tune in Nanjing, which is revolved from songs sung by workers when producing cloud brocade. With a history of 600 years, Baiju is the only old folk tune in Nanjing. The actor of performing Nanjing Baiju is generally one or two persons, with a maximum of 5 persons. All the dialogue in Baiju is spoken in Nanjing dialect, easy to understand but full of humor. It is a distinctive singing art brimming with Nanjing local flavor.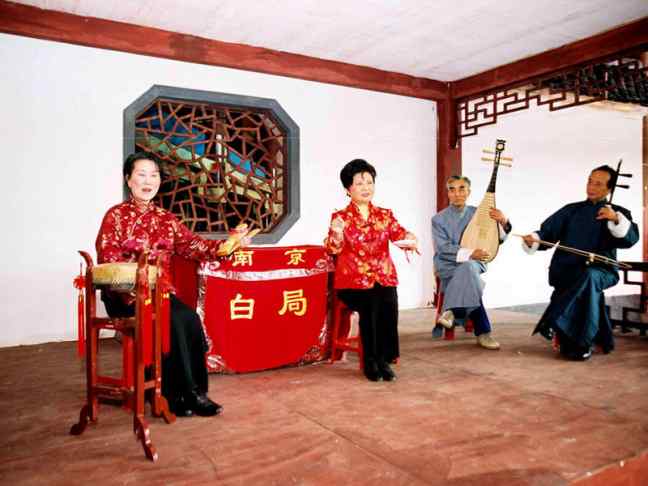 Source By: Baiju
Cruise in Qinghuai River on Dragon Boat Festival(端午划龙舟)
On the Dragon Boat Festival, Nanjing people eat rice dumplings and Green Bean Cake. Also people will use the sunshine-exposed water to wash eyes to avoid eye disease. Moreover, people will hang the folium artemisiae argyi onto the door to drive away bad luck. At night, houses flanked on both sides of Qinhuai River are decorated with colorful lanterns, and people will cruise on the dragon boat to appreciate the enchanting nightscape of Qinhuai River.
Touch Autumn on Mid-autumn Day(中秋)
The Mid-autumn Day is also referred as August Festival in southern China. On this day, people living far away will try their best to return home for family reunion. Nanjing people like sitting together and appreciating moon with family members. Hanging out on this night is called "Walking under Moonlight". On this special night, people will worship the moon: display various fruits and moon-cakes and then burn incense and firecrackers as a way of praying health and good luck.
Welcome Wealth God on Little Year(春节)
According to the custom of Nanjing, the fifth day of January in lunar calendar is called "Little Year", which is an important day for Nanjing people. On this day, all the trashes stored would be cleared thoroughly. People will stay up and wait for the coming of 0:00 on next day. When it comes, different kinds of cracks would be lit simultaneously and Nanjing city is brimming with spree atmosphere. On this day, according to the tradition of Nanjing, various lanterns of diverse shape would start to hang onto the Confucius Temple.
Nanjing Festivals
Nanjing International Plum Blossom Festival(南京国际梅花节)
Plum blossom is the city flower of Nanjing. Since 1996, Nanjing Municipal Government has held Nanjing International Plum Blossom Festival at Plum Blossom Hill, which is located in the Zhongshan Mountain Scenic Area each year. Now the festival has become a state-level tourism event renowned at home and abroad. Many blossom themed activities are held during February and March, which attract millions of visitors.
Qinhuai International Lantern Festival(国际秦淮花灯节)
Qinhuai Lantern Festival is an important component of Qinhuai culture and a famous traditional festival of Nanjing. It has been successfully held for 26 years in the Confucius Temple at Qinhuai Scenic Belt since 1985. Each year from Jan. 1 -15, up to several million locals and tourists from home and abroad visit the lantern shows.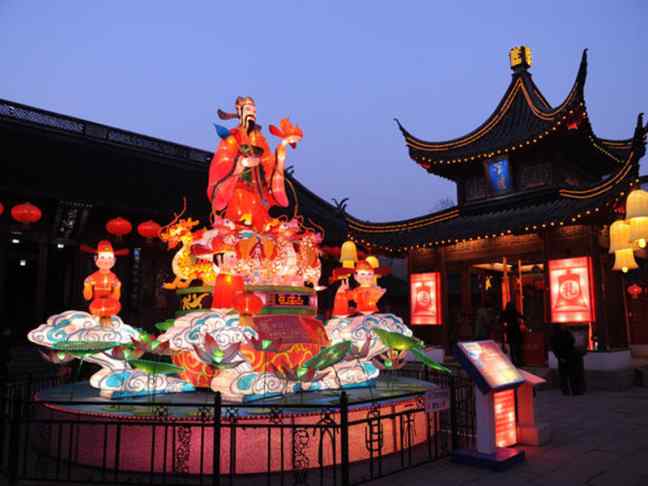 Gaochun Rape Flower Festival(高淳金花节)
A special festival held in China's only International Slow Town – Yaxi of Gaochun County when the rape flowers blossom. The golden flower sea, the slow town scenery and the delicious farm food attract many visitors.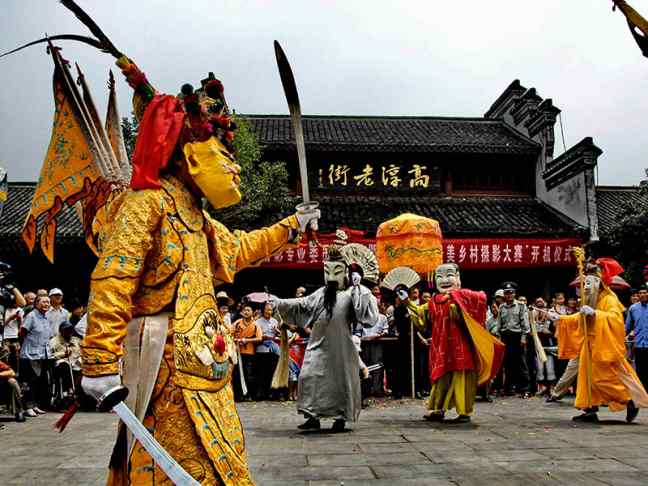 Source By: Gaochun Old Street
China Nanjing International Osmanthus Festival(中国南京国际桂花节)
A special garden activity of Linggu Temple held yearly when osmanthus flowers blossom in autumn.
Gaochun River-Crab Festival(高淳螃蟹节)
With river-crab as the carrier, the festival is held to fully display the special aquatic products, scenic spots, food brands and folk customs.
Red Maple Festival(红枫节)
A seasonal activity of Qixia Mountain held when the maples are red.
Tangshan International Hot Spring Culture Tourism Festival(汤山温泉节)
Tangshan is a very famous hot spring resort in China. It used to be exclusively for imperial families in ancient times. Tangshan International Hot Spring Culture Tourism Festival started in 2009. Many hot spring experts and international tourists come to attend various activities and forums related to hot springs every year. The festival has become a famous vacation and leisure brand of Nanjing.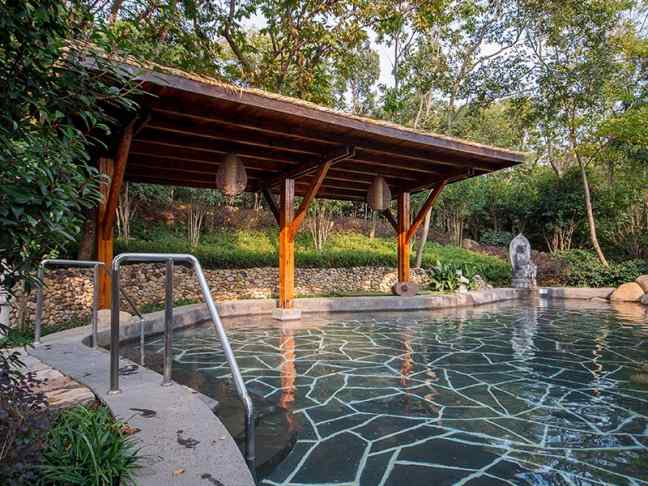 Source By: Nanjing Ziqinghu Hotspring Hotel
Nanjing Cultural Tourism Route
Historical Sites in the Ancient Capital
Taicheng Wall, Jiming Temple, Xuanwu Lake → Xiaoling Tomb of the Ming Dynasty, Linggu Temple → Qingliang Hill, Stone City → Mochou Lake → Chaotian Palace → Confucius Temple, Ancient Residence of Wang and Xie → Qixia Mountain → Two Tombs of Southern Tang King
Famous Relics of the Ming Dynasty
Xiaoling Tomb of the Ming Dynasty, Linggu Temple →Ming Dynasty Culture Village → Ming Dynastic City Walls(Zhonghua Gate, Taicheng Wall, Qingliang Gate, Shence Gate, Dongshui Pass, Wuchao Gate, etc.)→ Confucius Temple, the Former Residence of Li Xiangjun、Zhanyuan Garden, White Egret Park → Yuejiang Tower, Jinghai Temple, Tianfei Palace → Ruins of Baochuan Shipyard → Mochou Lake Park → Chaotian Palace → Tiansheng Bridge
Places of Interest Related to Zheng He's Trip
Jinghai Temple, Tianfei Palace → Ruins of Baochuan Shipyard → Zhenghe Park → Jingjue Temple → the Tomb of the King of Brunei → the Tomb of Zheng He at Niushou Mountain
Buildings in the Time of the Republic of China
Dr. Sun Yat-sen's Mausoleum, Linggu Temple, Nanjing Museum, Nanjing Geological Museum → Presidential Palace, Meiyuan Xincun, 1912 Culture and Leisure Block, Pilu Temple → Villa Area on Yihe Road, Nanjing University, Nanjing Normal University, Southeast University → Chiang Kai-Shek's Villa in Tangshan
Temples and Churches
Qixia Temple → Linggu Temple → Jiming Temple, Xuanzang Temple → Pilu Temple → Jinling Sutra Printing House, the Mosque on South Taiping Road, St Paul's Church on South Taiping Road → Jingjue Temple → Hongjue Temple on Niushou Mountain → Zhenru Temple on Youzi Hill → Huiji Temple in Tangquan
Folk Customs
Nanjing Museum → Nanjing Brocade Museum of China → Confucius Temple, Folk-custom Garden of Confucius Temple → Chaotian Palace (Nanjing Municipal Museum) → Ancient Lanes in South City, the Courtyard of Ganxi → Jiangning Gold Foil Plant→ Jinling Sutra Printing House → Gaochun Ancient Street → Jinniu (Golden Ox) Lake of Luhe
Waterscape of Qinhuai
Tour in a painted pleasure-boat along the outer Qinghuai River (sites along the route —Ruins of Dabao'en Temple、Changgan Bridge, Wuding Gate Park, Stone City Park, Jiangsu Television Tower, Shuimu Qinhuai, New Landscape of West City, etc.) →Tour in a painted pleasure-boat along the inner Qinghuai River (sites along the route – Dongshui Pass, the Former Residence of Wu Jingzi, Taoye Ferry, White Egret Park, Jiangnan Examination Office, Dacheng Palace, the Former Residence of Li Xiangjun, Ancient Residence of Wang and Xie, Zhanyuan Garden, Zhonghua Gate Citadel, etc.)
Scientific and Educational Places
Purple Mountain Observatory, Zhongshan Botanic Garden → Nanjing Museum, Nanjing Geological Museum → Nanjing Municipal Museum → Ming Dynasty City Wall Museum, Nanjing Paleontology Museum → Museum of Modern History in China (Presidential Palace), Meiyuan Xincun Memorial Hall → Taiping Heavenly Kingdom History Museum→ Yuhuatai (Rain Flower Terrace) → Memorial Hall of the Victims in Nanjing Massacre by Japanese Invaders→ Nanjing Urban Construction Exhibition Hall → Nanjing National Defense Park, Dacheng Palace, Jiangnan Examination Office
Landscape Gardens
Xuanwu Lake → Mochou Lake → Zhanyuan Garden, White Egret Islet → East and West Gardens of Presidential Palace → Zhongshan Botanic Garden, Plum Blossom Hill→ Qiangliang Hill Park → Pearl Spring →Nanjing Greening Exhibition Park
Riverside View
Jiangnan Naval School → the Monument in Memory of Crossing the Changjiang River Successfully → Yuejiang Tower, Jinghai Temple, Tianfei Palace → Nanjing Yangtze River Bridge → The 2nd Yangtze River Bridge →The 3rd Yangtze River Bridge → Ruins of Baochuan Shipyard → Nanjing Greening Exhibition Park → Jiangxin Island →Yanzi (Swallow) Rock→ Bagua Island
Nanjing History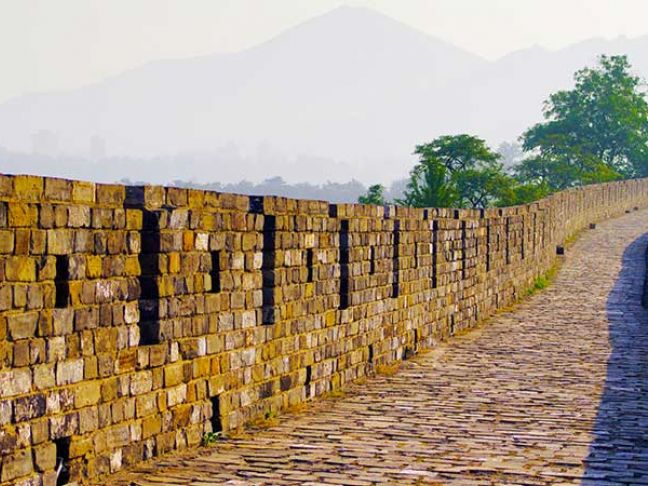 Photo from Ming City Wall
Nanjing has borne witness to the evolving dynasties and significant events from the ancient time till now so that any other cities in China might be overshadowed by Nanjing's long history and splendid cultures.
Nanjing is also called "City of Emperors" because in ancient China many empires were built, developed and fell here. It not only experienced the most prosperous golden age of the Chinese nation, but also went through the bitterest humiliation in Chinese history.
Nanjing provides endless chances for travelers to indulge themselves in the pure pleasure of a historical city adventure. First, let's take a glimpse at the Nanjing's history timeline.
Prehistoric culture period
Seven or eight thousand years ago, in the Neolithic Age, primitive villages were formed in Nanjing. Ancestors used the pottery, stone and bone tools to make a living. Nowadays, you could still find the Yinyang camp relic to the north of Gulou Tower, and ancient villages in Taowu town of Jiangning District.

Xia, Shang and Zhou Dynasties
About three thousand years ago, "Hushu culture" began to appear and develop in Qinhuai Area. It was the time when the exquisite bronze ware was first invented. During the Spring and Autumn Period, Nanjing had expanded its territory to the scale of a "city". King Wei of the Chu State once built the "Jinling town" in the stone city (another name of Nanjing in ancient times), and that's where the name "Jinling" originated.

The Southern Dynasties
The Wu State in the Three Kingdoms period headquartered in Jianye (Nanjing), and then when it came to the Eastern Jin Dynasty, the state capital was renamed as Jiankang city. Since then, 4 states including Song, Qi, Liang and Chen States in the Southern Dynasties period had chosen Jiankang to be their capital. That's why Nanjing is crowned as "the Ancient Capital of Six Dynasties". On a global stage, Nanjing and Rome are referred as "two classical civilization centers in the world" for both cities' developed economy and unique cultures.

Sui and Tang Dynasties
After the downfall of Chen Dynasty, Emperor Wen of the following Sui Dynasty destroyed the palace in Jiankang, which was an immeasurable historic loss and left people living in the city with a sad memory. During the Tang Dynasty, Nanjing became the paradise for scholars and poets to gather together for common academic aims. Hence in the pursuit of literature, Li Bai, Liu Yuxi, Du Mu, Li Shangyin and many other great poets created lots of masterpieces that have been passed down from generation to generation. All of these flourishing trends, from the booming trade to poetry, calligraphy and painting, have been silently witnessed by Qinhuai River.

The Ming Dynasty
After the Ming emperor Zhu Yuanzhang reunified China, he selected Yingtian (Nanjing) as the capital, making Nanjing the capital of a unified dynasty for the first time in history. At that moment, Nanjing was one of the world's largest cities, and Nanjing Ming City Wall was regarded as one of the biggest city walls in the world.

The Qing Dynasty
During the Qing Dynasty, Nanjing continued its prosperity. Emperor Kangxi and Qianlong had stayed in Nanjing for several times during their southern tours. After the signing of the unequal "Treaty of Nanjing" in 1842, and preceded by the massive Taiping Rebellion, one of the most striking events in the 19th century of China which lasted for approximately 14 years, China finally made its first step into the modern times. Nanjing, named as Tianjing at that time, was again chosen as the capital by the Rebellion leader Hong Xiuquan.

The Republic of China
The Revolution of 1911 set off a new era. Sun Yat-sen established the Republic of China in Nanjing.

Nanjing Modern Times
Today, Nanjing is the provincial capital of Jiangsu and plays an irreplaceable role in economy, culture, transportation and other aspects. Because of its long history and beautiful scenery, Nanjing was selected as one of the national historical and cultural cities and became the national key tourism city. Embodied by the city flower plum blossom and city tree cedar, Nanjing's strenuous spirit is motivating the city to accelerate towards a brighter future.
Nanjing Culture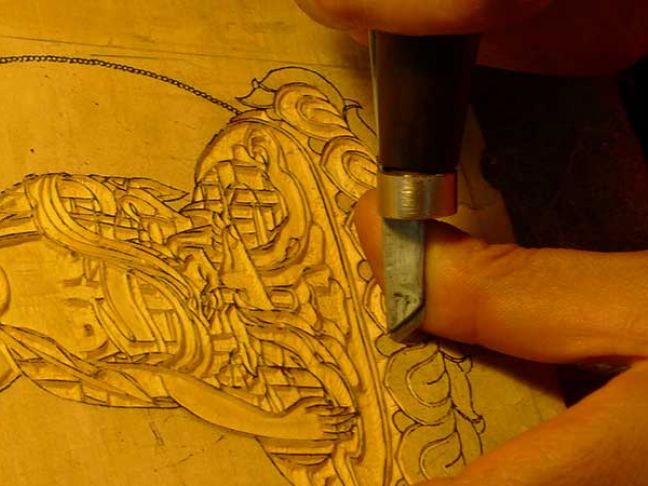 Nanjing is a culturally diversified land and boasts more historic heritages than any other southern regions of the Yangtze River. "Jinling" and "Qinhuai" are two cultural symbols of Nanjing.
1. Poetry
Since ancient times, Nanjing was the place that gave birth to numerous talented poets who dedicated their whole life to creating remarkable works. Of all the renowned works, Xie Tiao's poems, Li Yu's Ci and Li Bai's works expressing nostalgia of Jinling gained a high reputation worldwide. "Nostalgia" later became the most popular poem theme about Nanjing. When people quote the lines of a poem they need to understand it first, each poem is communicating distinct messages or implications to its readers and features a writing style of its own: Liu Yuxi's poem "Black Robes Row" was writing about something desolate but in a free and easy tone, to show the microcosm of the bustling world; Du Mu's poem "Mooring in the Qinhuai River" created a hazy and plaintive memory of Qinhuai River…
2. Calligraphy and Painting Art
Along with the start of Six Dynasties, Nanjing embraced a time of calligraphy and painting art that were soon thriving throughout China. During the Eastern Jin Dynasty, Wang Xizhi was known as a great calligraphy master, and Gu Kaizhi was famous for the fresco of glamorous Vimalakirti in a temple. The open social environment in Ming and Qing Dynasties nurtured an increasing number of skilled calligraphers and painters. Till 1920s-1930s, Nanjing had become the heart of calligraphy and painting art. Xu Beihong, Zhang Shuqi and Liu Zigu were together honored as the "3 most outstanding painters" in the art world.
3. Nanjing dialect
Nanjing dialect is mainly divided into old Nanjing dialect and new Nanjing dialect. Old Nanjing dialect was used as the official language in the period of Ming and Qing Dynasties, and was recognized as the authentic Nanjing dialect. Later, as time stretched out and people moved in and out, old Nanjing dialect was gradually affected by the north official language to finally form a new Nanjing dialect. To date, most of the dialects you hear in Nanjing sound very similar to the northern mandarin.
Nowadays, few people in Nanjing speak the old Nanjing dialect because it is quite difficult to understand and mandarin is broadly learnt in mainland China. If there's any region that still preserves this old dialect, it must be the local residential communities in the south and west of the city. Today, the Nanjing dialect only refers to the new Nanjing dialect.