Popular

Accommodation in Nanjing China
5 Popular Hotels in Nanjing
From mid-range stays to backpacker hostels, these are the five most comfortable beds under US$120 per night
For most travelers, there are only two kinds of hotels: the ones to check into when a Fortune 500 company is paying and the ones to book with their own check.
Here are Nanjing's top hotels (listed in no particular order) for the latter, all under US$120 per night. They are the best in their league, each showing a unique side of the city.
Holiday Inn Nanjing Aqua City
Photo from Holiday Inn Nanjing Aqua City
This 16-story, four-star hotel is an unbeatable choice for shoppers and foodies: it's a part of the 170,000square-meter mega mall Aqua City and is a stone's throw from Confucius Temple, the city's headquarters for traditional snacks and handicrafts.
The InterContinental-brand carries all facilities for both a relaxing and invigorating stay -- free Wi-Fi, international TV channels, concierge service and an indoor pool -- and for those who want a vacation splurge, including a TCM-style spa and an all-day buffet restaurant.
Rooms start from 30 square meters in size and are clean and modern.
No. 1, Jiankang Road, Baixia District; +86 25 8223 3888; nightly rate from around RMB 633 (US$101) plus 15 percent; a 60-minute spa session costs RMB 380 (US$61).
Orange Hotel
Photo by Orange Hotel
This Chinese brand operates the best budget hotel in Nanjing. All four branches are close to subways and centrally located.
The hotels are bright, well-designed and fitted out to meet the three-star standard.
Rooms are compact but carry all the basics and occasional deluxe touches, such as a large and powerful shower, flat-screen TV and sometimes an intelligent lighting system.
The group also operates a more upscale chain, Crystal Orange, near Aqua City. The 170-room establishment has the ambience of an affordable boutique hotel. Rooms are classier and contain a bathtub (in addition to the shower) and an iPod-compatible audio system.
Crystal Orange Hotel, No. 23, Shengzhou Road, Qinhuai District; +86 25 6608 0066; nightly rate from around RMB 468 (US$75) inclusive
Orange Hotel (Donghuamen branch), No. 532-1, East Zhongshan Road, Baixia District; +86 25 6608 1122; nightly rate from around RMB 238 (US$38.2) inclusive.
Home Inn
This is one of China's largest and most talkedabout budget hotels.
Although rooms are basic -- bed, shower, bathroom, air con and a TV set – this is the cheapest way to rent a clean, convenient and private space in Nanjing. Bathroom amenities and Wi-Fi are provided free of charge.
There are 38 branches across Nanjing. Some only receive domestic guests. The two below accept both Chinese and international travelers.
Home Inn Hunan Road Branch, 4/F, No. 231, Hunan Road, Gulou District; +86 25 8320 2258; nightly rate from RMB 189 inclusive (US$30)
Home Inn Xinjiekou Branch, No. 133 Mingwa Lang, Xinjiekou, Baixia District; +86 25 8421 3808; nightly rate from RMB 189 inclusive (US$30).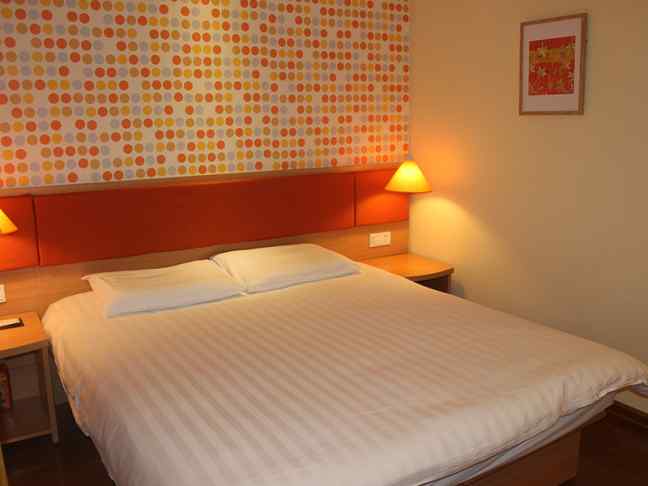 Photo from Home Inn
Jasmine International Youth Hostel
This Republic of China-era villa lies in the depths of a residential alleyway in Nanjing's nightlife center, Shanghai Road, and is near several large universities.
A lovely garden separates the hostel's big grey gate from the check-in lounge and the guestroom building.
Room types range from mixed dorms of four or six beds, en suite twin rooms to double-bed rooms with shared bathroom, all equipped with free Wi-Fi.
No. 7, Lane 83 Shanghai Road, Gulou District; +86 25 8330 0517; nightly rate: dorm from RMB 60 (US$9.6), room from RMB 155 (US$26).
Time International Youth Hostel
The 24-room lodging is in a revampedcentury-old house, which is said to have been the residence of several high-ranking officials of the Republic of China.
Situated in Meiyuan Xincun, one of the most peaceful neighborhoods in downtown, the hostel enjoys easy access to Xinjiekou (20 minutes on foot) and the Presidential Palace (10 minutes).
Accommodation on offer includes a massive 20-person mixed dorm in the attic, female-only dorms and en suite twin and big-bed rooms.
No. 6-5, Yong Yuan, Meiyuan Xincun, Xuanwu District,; +86 25 8556 9053, nightly rate: dorm from RMB 50 (US$8), room from RMB 180 (US$29)
Crowne Plaza Nanjing Hotel & Suites
Located in the heart of Xinjiekou, Nanjing's commercial and business area, Crowne Plaza Nanjing Hotel & Suites is surrounded by several upscale office buildings, commercial centers and financial institutions. The hotel is 42 km away from Lukou International Airport, 20 minutes drive from railway stations and most scenic spots in town and within walking distances to the nearest Metro stations. In front of the hotel is Xinjiekou Station, where tourists could easily transfer to Metro Line 1 and Line 2. Boasting the superior location, it presents as a perfect place for business travelers, as well as for people who seek for pure leisure.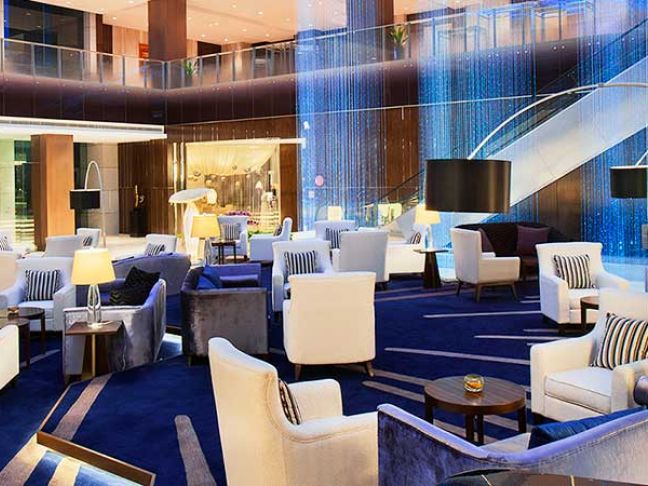 Source By: Crowne Plaza Nanjing Hotel & Suites
285 Well Equipped Guest Rooms and 28 Apartments Newly Upgraded
Occupying the floors of 37-53 in the landscape building of Golden Eagle Plaza A, the hotel has newly upgraded 285 well equipped guest rooms and 28 apartments, 60% of which are over 60 square meters. Sitting on the cozy sofa in the guest room, guests could enjoy a panoramic view of the entire city and feel the modern vitality of this ancient capital.
Ultimate Business Experience Available In the Hotel
With full coverage of free wireless network, the hotel brings each guest an ultimate business experience. There are unique "sound sleeping choices" to guarantee sound sleeping, like high-quality bedding, functional sleep pillow, gentle fragrance and drinks. The Executive Floor offers attentive and personalized services to meet the business and recreational needs of all guests. Besides, the hotel also comes with thoughtful amenities such as a fitness center, an indoor swimming pool and a sauna, where guests could feel totally relaxed and wash away stress in a healing atmosphere.
Many Famous Scenic Spots Available Around the Hotel
Many famous scenic spots are within 15 minutes' drive from the hotel: Chaotian Temple, Qinhuai River, Confucius Temple, Xuanwu Lake, Laomendong Historical and Cultural District, Presidential Palace, Ming Palace, Gulou Park, Xiaoling Tomb of Ming Dynasty, Dr. Sun Yat-sen's Museum, Jiming Temple, Ancient City Wall, Purple Mountain Observatory, Plum Blossom Mountain, Zixia Lake, Nanjing Marine World, Wulongtan Park, Pearl Park, Zheng He Park, etc. Metro stations around the hotel are Xinjiekou Station and Xinjiekou (W) Station.
A variety of rooms for your selection
A variety of rooms are available for guests to choose from: Crown Superior Room, Crown Deluxe Room, Crown Exquisite Suite, Crown Characteristic Suite, Crown Panorama Suite, with prices ranging from 400RMB to 1000RMB per night.
Tel.: 86 25 84718888
Address: No. 89, Hanzhong Road, Qinhuai District, Nanjing City, Jiangsu Province
http://cn.ihg.com/crowneplaza/nkgge/hoteldetail
Century Star Hotel, Nanjing
Located close to the intersection of Mochou Road and Guangzhou Road, Century Star Hotel (Shuiximen) is adjacent to Chaotian Palace, Mochou Lake, Confucius Temple and the Xinjiekou Shopping Center. The hotel features superior geographic location and convenient transportation. Several lines of buses stop at the gate of the hotel. Metro lines around the hotel include Shanghai Road Metro Station, Zhangfuyuan Metro Station and Sanshanjie Metro Station. Therefore the hotel guests may take public transportation very conveniently.
It has 125 rooms with simple but stylish decoration and all the rooms are self-contained with a range of facilities like TV sets, hot water, broadband network, toiletries, etc. If you are seeking for a cost-effective hotel for your business trip and vacation, this hotel is a perfect choice. Room rates of the hotel start from 160 RMB.
Transportation:
The hotel is close to Shuiximen Bus Station. To reach the hotel, you can take bus lines of 28, 12, 80, 83, 48, 306, 160 to Shuiximen Bus Station.
Reference Price: 160RMB/ night
Tel.: 86 25 66605588
Address: No.81, Mochou Road, Qinhuai District, Nanjing'