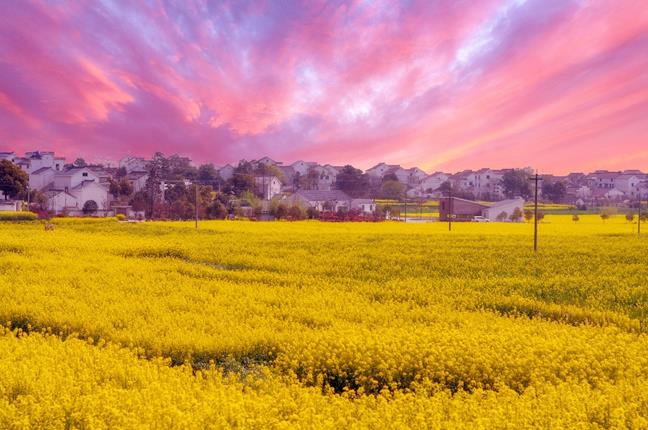 (A sea of rape flowers in Gaochun District, Nanjing. Courtesy of https://stock.tuchong.com)
Beginning in early March, the lovely spring scenes in Nanjing would have a bright golden yellow touch. Glistening yellow swathes, i.e. rape fields, lure and enchant visitors. The rape, a major crop, would sketch out huge, saturated and dazzling oil paintings during the blooming season. No wonder Emperor Qianlong of the Qing Dynasty once wrote a poem titled Rape Flowers, saying: Profuse yellow petals amidst dense green leaves, foretelling abundant rape oil for many villages. What a lovely plant for the people's livelihood, unlike idle flowers or wild grasses of no use!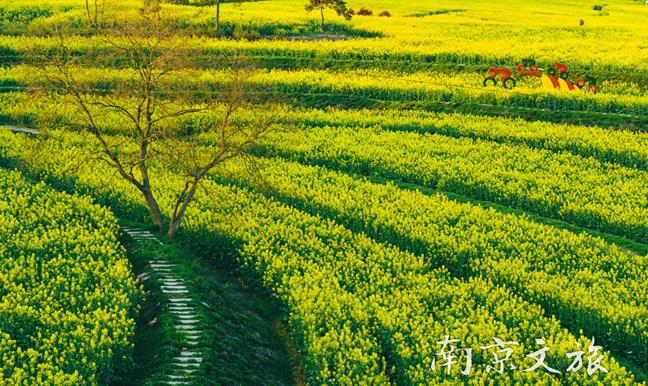 (Rape flowers in Gaochun. Courtesy of Nanjing Culture and Tourism Bureau)
When the rape blossoms, the suburbs and hillsides would be covered by golden yellow swathes that look all the more bright under the spring sun. Rape flowers are better enjoyed from a distance than up close. From a distance, it is all golden yellow, as if the flowers, like the flooding sunlight, spread and extend across the fields infinitely. Up close, it is like losing yourself in an endless sea of golden flowers, shrouded by the sunlight and blossoms in a natural, fresh, relaxing ambience that enchants and indulges.
Gaochun is a must-see place for enjoying rape flowers in Nanjing. Rape flowers are a unique sight to see here in spring. Gaochun, an "international slow town", hosts the Rape Flower Festival when the rape blossoms every year. When golden yellow rape flowers scramble to bloom, hectares of rape fields form a spectacular, fragrant sea of blossoms. Yellow rape flowers extend and sprawl with the rolling hills and fields, and residential dwellings with white walls and black roof tiles are hidden here and there. It is the best time to leisurely enjoy the charming scenery in Gaochun.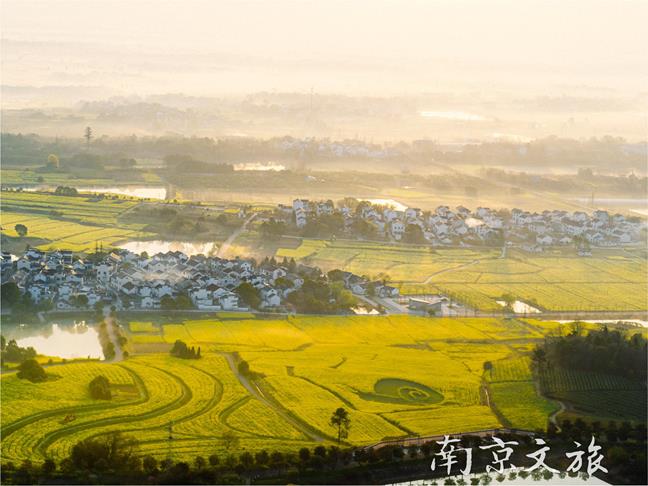 (International Slow Town, Gaochun. Courtesy of Nanjing Culture and Tourism Bureau)
Due to the hilly topography in Gaochun, rape fields lie high and low like terraces, forming a sea of yellow layers. Such a pleasing sight and the light fragrance, against the backdrop of blue sky and white clouds, heighten the beauty of temporarily escaping from the urban bustle and enjoying an idyllic lifestyle. Numerous winding paths run through hectares of rape fields. A walk through it is like wandering on an endless sea of yellow flowers or being in a classic oil painting.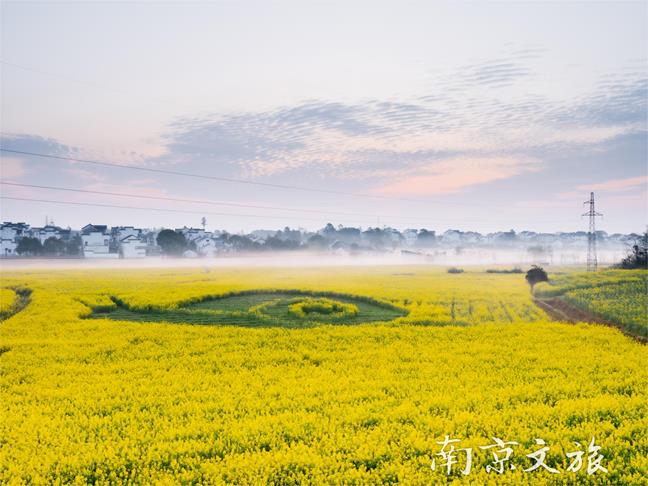 (A sea of rape flowers in Gaochun District, Nanjing. Courtesy of Nanjing Culture and Tourism Bureau)
If Gaochun is too faraway for you, then you can visit Yongning in Pukou District instead. Yongning is closer to downtown Nanjing, and rape fields here unfold along the Chuhe River scenic belt right to the foot of Laoshan Hill. Raising your eyes, you can see fields on the banks covered with a glistening yellow carpet, emitting wafts of pleasant scent. From heights, you can see more than 230 hectares of rape fields form a huge yellow "smiley face", as if welcoming visitors. Scarecrows occasionally stand in the flower fields, silently embracing this expanse of golden yellow sea.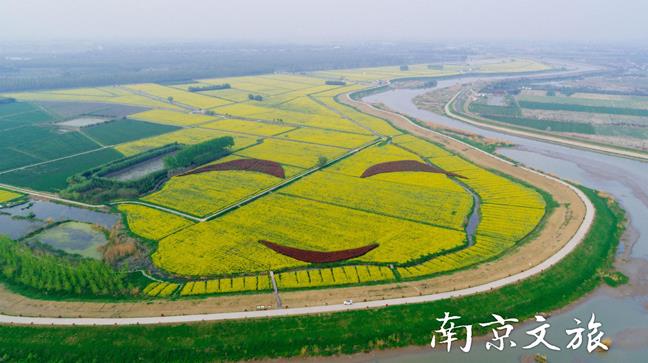 (Rape flowers in Yongning Subdistrict, Pukou District. Courtesy of Nanjing Culture and Tourism Bureau)
In Yongning, you can also ride a bike through the rape fields. Gentle breezes would send over wafts of fragrance. Looking at the undulating waves of yellow rape fields, you would feel that this is the most beautiful spring scene. You can embrace the arrival of spring in sports and in the scented air. For families, rape flower tours here offer many parent-child activities for experiencing a different countryside lifestyle with kids and other family members.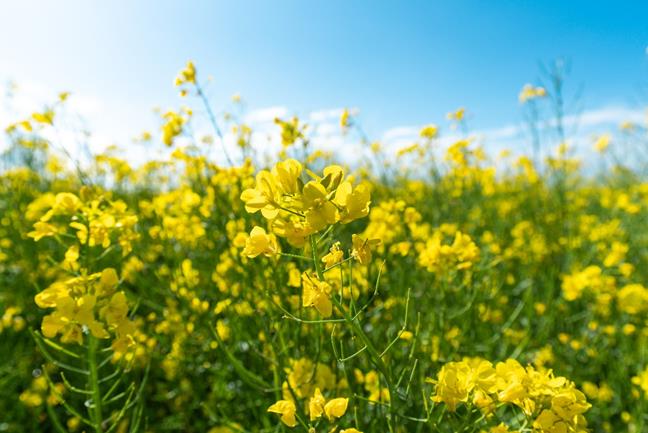 (A sea of rape flowers. Courtesy of https://stock.tuchong.com)
There is another rape flower site worth visiting. It is the rape flower sea in Hengxi Subdistrict, Jiangning District. From distant heights, you would see a large expanse of golden yellow rape fields that piece together to form a colorful, enchanting painting scroll. These rape flowers decorate villages and farm fields, with distant archaic villages hidden in between, constituting a charming, natural scroll of painting, like an Arcadia.
Spring creates a huge, dazzling painting with rape flowers. Do not miss such a spectacular painting of Nanjing.