Spring

in Nanjing, Time for Encounters with Flowers
As spring sets in and temperatures go up, the heart eager to go for spring outings grows all the more restless. Which places in Nanjing offer the best views in springtime? An encounter with spring flowers in the city would be the most interesting spring pastime.
(Red plum blossoms on Meihua Hill. Courtesy of Nanjing Culture and Tourism Bureau)
In Nanjing's Xuanwu Lake scenic area, there is a more-than-4-meter-high red plum tree called "Harbinger of Spring", which as its name suggests, would bud and flower when the spring is yet in the air, heralding that spring is coming. Following the bloom of the Harbinger of Spring, other flowers would, as if answering the call, slowly blossom and flourish as spring sets in.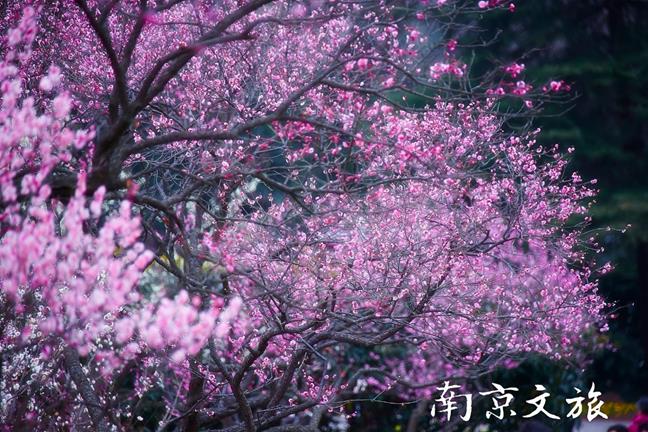 (Spring coming to Mochou Lake. Courtesy of Nanjing Culture and Tourism Bureau)
Strings of golden yellow winter jasmine climb all over a stretch of city wall, adding a touch of sunny bright color. At the Nanjing University of Science and Technology (NJUST), patches of February Orchid (Orychophragmus violaceus), purple and white, blossom in riotous profusion and sway in the spring breeze, like a floating purple sea. In a small peach garden down the Ming City Wall, bright peach flowers blossom against the mottled ancient city wall, presenting different shades of red like flames and clouds and emitting a faint fragrance that intoxicates. At the ancient Jiming Temple, cherry trees blossom on schedule. Brocade-like cherry blossoms drift down the red walls and green roof tiles of ancient buildings, like clouds or snowflakes, adding a bright touch to the ancient capital. Rape flowers in Gaochun District vie to blossom. Overlooking from heights, you can see yellow rape fields and Anhui-style villages undulate, forming a golden sea in an interesting way.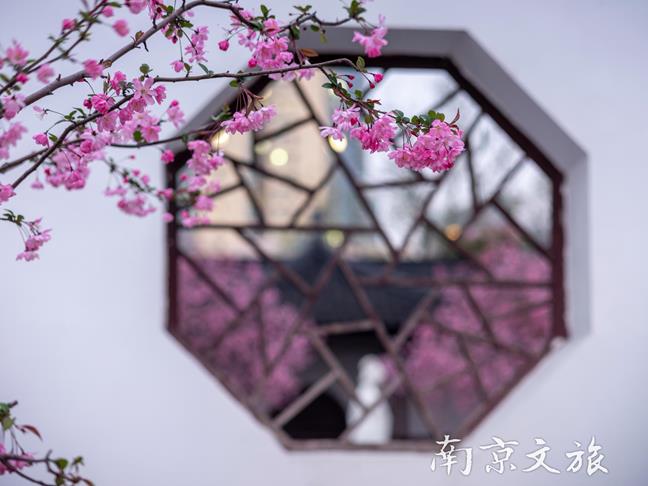 (February orchid blossoms at NJUST. Courtesy of Nanjing Culture and Tourism Bureau)
This way, the spring in Nanjing is frozen in clusters of flowers and wafts of fragrance, adding a riotous profusion of colors to the ancient capital. People from the past and present have searched for their favorite flowers under the warm spring sun in the city once known as Jinling, as Li Bai wrote, "savoring the spring of Jinling in hundreds of cups."
(Cherry blossoms at Jiming Temple. Courtesy of Nanjing Culture and Tourism Bureau)
While the sun is bright and spring is in the air, why not go for a feast of fresh flowers? Let's search for plum trees, visit cherry blossom sites, and appreciate rape flowers.
In Nanjing, a profusion of flowers offers you an encounter with spring.