Yuhua Stone
As one of the symbols of Nanjing City, Yuhua Stone (literally rain flower pebble in English) has been cherished by more and more people for its beautiful texture and gorgeous colors. This natural agate is believed to be a heaven-sent blessing in Chinese myth and legend, where the Heaven was touched by an eminent monk when he was expounding the Buddhist dharma. And then rain of flowers fell, which transformed into colorful stones when they hit the ground. If you are looking for authentic and high-quality Yuhua Stone products, just come and visit the Nanjing Yuhua Stone Museum!
Nanjing Yuhua Stone Museum
Take an informative journey exploring the origin, history and culture, as well as the aesthetic features of the Yuhua Stone at the museum. You won't be disappointed!
Address: In the Rain Flower Terrace Scenic Area, No. 215 Yuhua Road, Yuhuatai District, Nanjing
Tickets: CNY 10/person
Opening hours: 8:00-17:00
Tel.: +86 25 52405851
Transportation: Take Bus No. 764 to the East Gate of the Rain Flower Terrace and then walk for about 480 meters.
Yuhua Tea

Nanjing Yuhua Tea, mainly produced in the surrounding areas of Nanjing, is one of the top ten famous teas in China. Its shape is like a pine needle, green and straight, slightly-pointed at the two ends of the tender leaf bud with fine hair. It is named "Yuhua" (literally meaning "rain flower") tea in honor of the martyrs who died at Rain Flower Terrace. Authentic Zhongshan-branded Yuhua tea can be bought at all major cultural and creative gift shops in Zhongshan Scenic Area.
Learn more about Yuhua Tea.
Nanjing Yunjin Brocade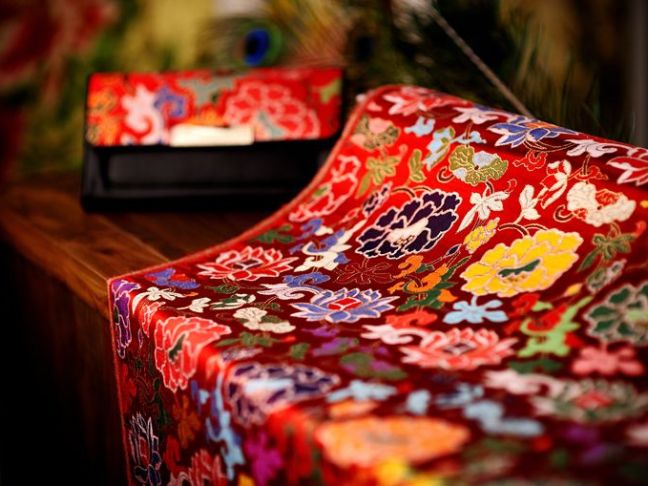 Yunjin Brocade in Nanjing is a remarkable masterpiece of Chinese silk fabric that can be dated back to as early as the Six Dynasties and flourished in the Qing Dynasty. Its elegant and refined pattern with bright colors is reminiscent of clouds in the sky, so it is named "Yunjin", meaning "cloud brocade" in English. Yunjin Brocade gains a reputation for its exquisite materials, fine weaves, elegant patterns, beautiful brocade lines and graceful style. That is why it ranks the first among the "Three Famous Brocades" in China (the other two are Shu Brocade and Song Brocade).
If you are shopping around for some valuable and lightweight souvenirs during your trip to Nanjing, Yunjin Brocade is exactly what you want. And the Nanjing Yunjin Brocade Museum is an ideal destination for travelers who want to get the most authentic brocade products.
Nanjing Yunjin Brocade Museum
The Nanjing Yunjin Brocade Museum is the first and only brocade weaving art museum in China. It is an ideal place for visitors to discover the weaving technique and exquisite collections of Yunjin Brocade in Ming and Qing dynasties, as well as the replicas of ancient Chinese silk fabrics. Also, get ready to buy some beautiful brocade products in the store on the first floor.
Address: No. 240, Chating East Street, Jianye District, Nanjing
Tickets: Free
Opening hours: 9:00-17:00
Tel.: +86 25 86630749, 86528055
Transportation: Take Subway Line 2 to Yunjin Road Station (Exit 2) and walk for about 360 meters.
Nanjing Bamboo Carving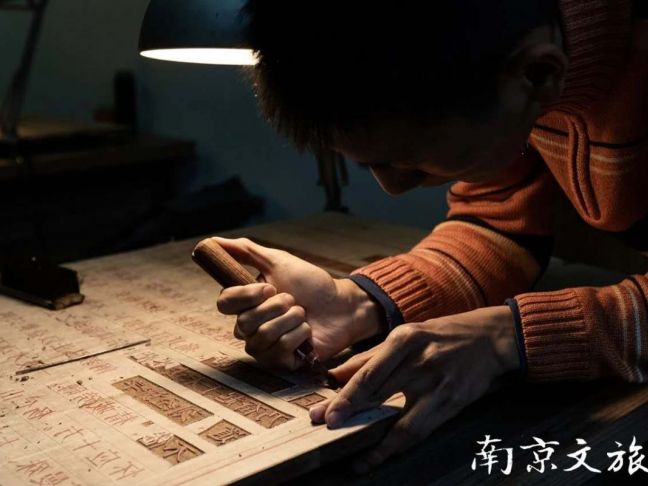 The Nanjing bamboo carvings have gained national fame with its simple style and shallow protrusion, and the complex technique and intricate detail also make the art even more attractive. Artisans in Nanjing add cultural charm to this folk art by creating bamboo carvings engraved with calligraphy. The best place to get yourself some exquisite bamboo carving artworks is the Nanjing Arts & Crafts Building.
Nanjing Arts & Crafts Building
The Arts & Crafts Building in Nanjing is the largest time-honored shopping mall selling handiwork in Jiangsu Province. Special products available here include paper cuts, bamboo carvings, antique wood carvings, porcelain carvings, antiques, Yuhua stones, jade, porcelains and other featured craft works in Nanjing.
Address: No. 31, Beijing East Road, Xuanwu District, Nanjing
Opening hours: 9:00-17:00
Tel.: +86 25 57717177
Transportation: Take Subway Line 1/4 to Drum Tower (Gulou) Station (Exit 4B) and walk for about 600 meters.
Nanjing Velvet Flower
The art of making Ronghua, or velvet flower, dates back to the Tang Dynasty. This handmade artwork was once used as headdress by women of the royal and noble families in ancient China for its ever-lasting beauty. Ronghua, the homophonic word of wealth and glory in Chinese, used to be found only in royal courts for a long time, and it was not until the late Ming and early Qing dynasties that it became a popular decoration among ordinary people. The folk craft is often used as brooch, headdress and ornaments, and craftsmen sometimes engrave animals on velvet flowers too. Where to find the most beautiful velvet flowers then?
Gan's Grand Courtyard
Take a tour of the Nanjing Folk Custom Museum (Gan's Grand Courtyard), where Zhao Shuxian, an acclaimed velvet flower artist, owns a studio providing the complete process of velvet flower making and design.
Address: No. 15, Nanbuting, Zhongshan South Road, Nanjing
Opening hours: 9:00-17:30, Tuesday-Sunday (Ticket office closes at 17:00)
Tel.: +86 25 52217104
Transportation: Take Bus No. 33, 35, 100, Y16 Night Route to Zhangshan South Road/Shengzhou Road Station.
Gaochun Ceramics
With world-class craftsmanship and preeminence in modern China, Gaochun ceramics tableware has been used for national banquets or dinner parties at many big events, including APEC 2014 in Beijing, the 2014 CICA Summit in Shanghai, Nanjing 2014 Youth Olympic Games, the 2015 World Internet Conference held in Wuzhen, Zhejiang, and the 2017 Belt and Road Forum. Where can visitors learn more about Gaochun ceramic?
Gaochun Ceramics Museum
Gaochun Ceramics Museum is divided into four exhibition areas focusing on the display of renowned ancient Chinese porcelains, contemporary national porcelains, works created by excellent ceramic craftsmen and Gaochun ceramics. Visitors can also experience with ceramic art making practices and immerse themselves in Chinese ceramic culture.
Address: No. 8, Jingshan Road, Gaochun Economic Development Zone
Tickets: CNY 60/person (excluding extra charge for DIY)
Opening hours: Morning session 9:00-11:40; afternoon session 13:00-16:40
Tel.: +86 25 57398888
Transportation: Take Subway S9 to Gaochun Station, and take then the shuttle bus there
Nanjing Paper Cuts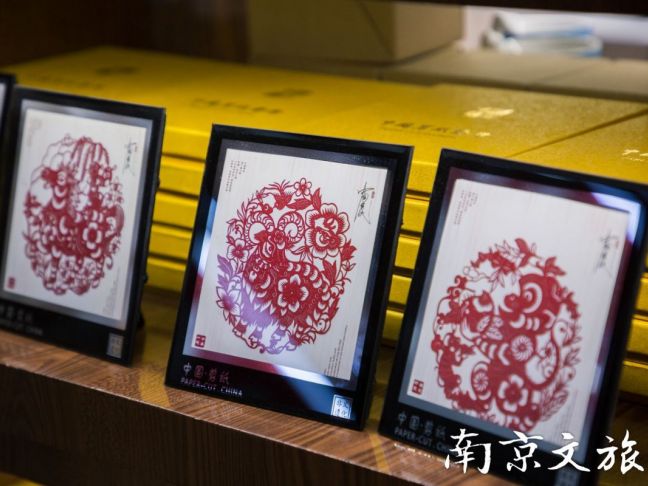 Paper cutting in Nanjing is a folk art with a long history, and it has been listed as the UNESCO Intangible Cultural Heritage of Humanity. A pair of scissors is the source of magic most of the time, except when making door paper cuts by knives. Paper-cutting artists never make sketches before making their cuts, and by swapping the paint brush for scissors, they create unique works at one stretch. Nanjing's paper-cut artwork is known for its curves, complicated lines and roughness with delicacy. The creations are also characterized by a rhythmical form and impressive decorative style. The Nanjing Arts & Crafts Building is where you can buy some paper cuts as part of your personal collection or gifts.
Nanjing Gold Foil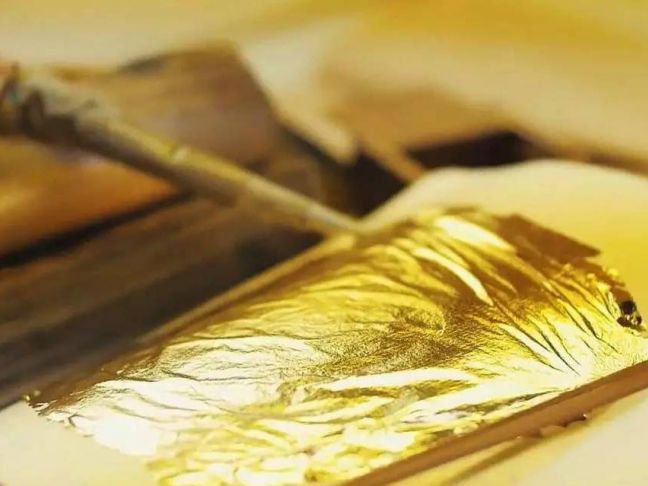 Nanjing Gold Foil Forging Process is a traditional Chinese handicraft dating back to the Southern Dynasties (420-589 AD). A gold bar has to go through a dozen processes to be hammered into extremely thin foil. So where can we explore the gold foil forging process?
Nanjing Gold Leaf Museum
With a collection of more than 300 exhibits, the museum gives visitors a glimpse of the craftsmanship as well as the history of gold foil forging.
Address: No. 1, Shugang Road, East of Longtangang, Qixia District
Tickets: Free
Opening hours: 9:00-16:00, Tuesday-Sunday
Reservation Tel.: +86 13813957711 (Mr. Lu), +86 15850583760(Ms. Liu)
Transportation: Take Bus D5 to Huanyuan North Station and walk for about 1.6km
Online panoramic tour: http://beyond.3dnest.cn/play/?m=zq_jbbwg_24
Salted Duck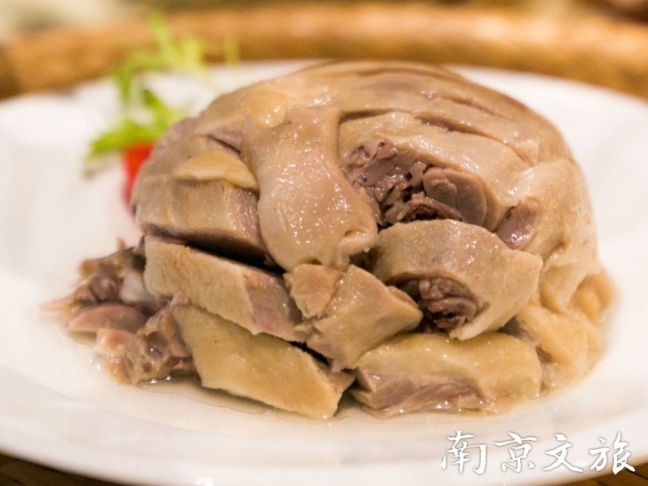 Salted duck, a famous cuisine in Nanjing, has been favored by local people for years. It enjoys good reputation with a long history of over 1,000 years. Salted duck is among the most sought after foodie in Nanjing for its light yet salty taste, fat but not greasy flavor and tender flesh. It is recommended to buy vacuum-packed salted ducks at the local supermarkets if you plan to get some for your families or friends.
Hairy Crab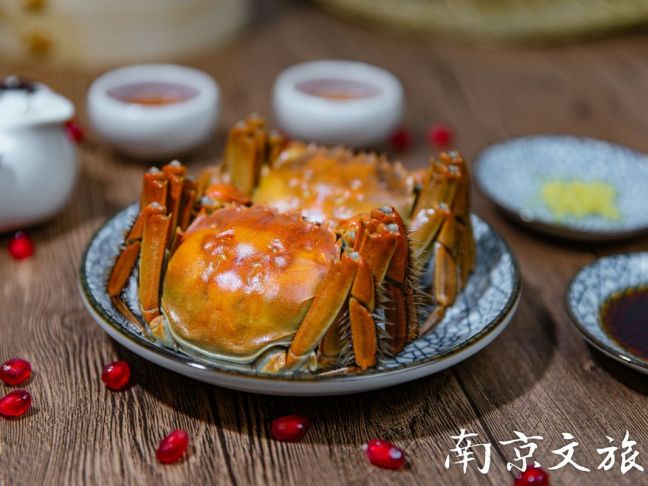 The 300,000 square-meter Gucheng Lake in Nanjing's southern suburbs breeds some of the tastiest hairy crabs in the nation. Every autumn between mid-September and mid-October, Gucheng County throws a grand festival to celebrate the harvest season of the lake delicacies. The local way to enjoy these crustaceans is to steam them, crack the shells open, and then dip the meat in vinegar. You may try it at Gaochun Old Street.
Gaochun Old Street (高淳老街)
To go to Gaochun from Nanjing downtown, take a bus from Nanjing South Long-Distance Bus Station (next to Nanjing South Railway Station). It takes about 90 minutes.