In Nanjing's autumn, there are 600-meter Sacred Path with stone statues, Yihe Road with plane trees, Qingliang Hill with ginkgo trees, Qixia Mountain with red maple trees and ancient buildings, and iridescent Zhima Ridge. In addition to these delightful autumn sights, it is recommended to taste fine food offered only in autumn to enjoy different "attractions" in Nanjing.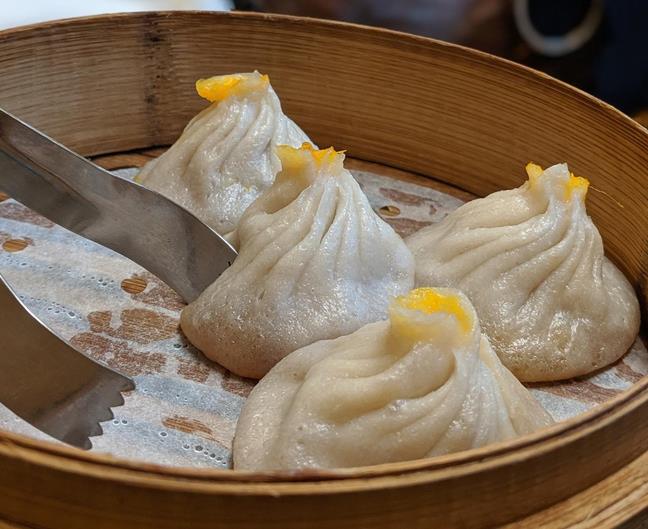 (Photo: Crab Roe Tangbao; Source: pixabay)
When it comes to autumn food, the first Nanjing food that comes to mind is the Osmanthus Cake with osmanthus flower as a natural ingredient. Strolling in the streets, tourists smell the fragrance of osmanthus flowers and see the delicate florets fluttering down like a gentle rain, bringing great sensual pleasures to tourists. In autumn, no comfort food is as sweet and soft as Osmanthus Cake.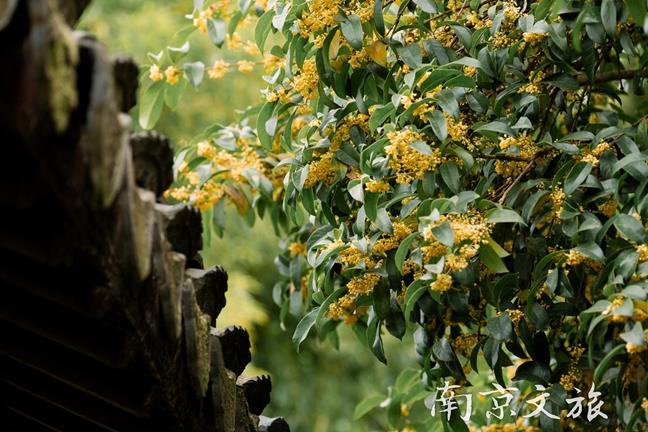 (Photo: Osmanthus flower; Source: Nanjing Municipal Administration of Culture and Tourism)
Not merely for the appearance, osmanthus flower added to Osmanthus Cake gives the soft and sweet pastry its unique fragrance. Chewing the soft Osmanthus Cake and filling your mouth with the fragrance of osmanthus flower, you may get your appreciation of Nanjing's autumn sights more pleasant.
In addition to Osmanthus Cake, Plum Blossom Cake should not be missed. Plum Blossom Cake, as a famous local dessert in South China, is common in Nanjing. Originated in the Ming Dynasty, this plum blossom shaped dessert is widely known for its appetizing color, sweet but not greasy taste, moderate softness and crisp, and long finish. In late autumn, when you bite into a freshly baked Plum Blossom Cake, first you taste the chewy, sweet crust with raisins and pine nuts, and then the sweet bean paste bursting out to warm your mouth and stomach, it's really comforting.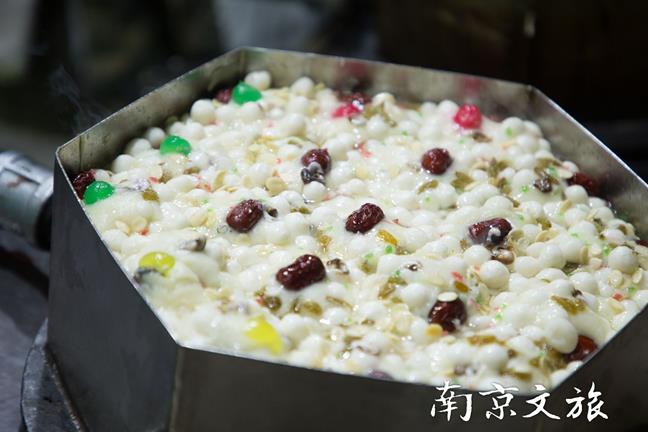 (Photo: Plum Blossom Cake; Source: Nanjing Municipal Administration of Culture and Tourism)
"Crab feet and roe are at their best when the west wind blows." Autumn is the best season to taste Gucheng Lake crabs as the crab meat and roe are the fleshiest. There is no doubt that sucking crab roe and eating crab meat is an autumn ritual in Nanjing. Gaochun Gucheng Lake hairy crab is crowned as the king of crabs because the water area of Gucheng Lake is the most ideal paradise for crabs to grow. The clean and deep water here is of high quality, less silt, abundant aquatic plants and pleasant climate. The crabs that grow up here are prominent in both shape and flesh. Steamed hairy crab is the most popular way to eat crabs in Nanjing. The crab and yellow rice wine should be the most wonderful combination in autumn. Marinated Crab with Huadiao Wine is worth a try. With this recipe, the fresh crab roe is added with the aroma of Chinese Baijiu and yellow rice wine. The soft crab roe tastes good. Crab Roe Tangbao should be savored. It tastes a little sweet, with fleshy crab meat and strong crab juice. The intense flavor of crab paste makes it worth your while.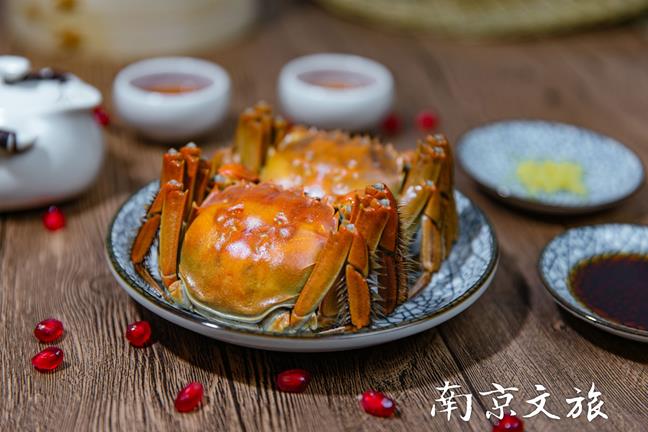 (Photo: golden autumn with crab delights; Source: Nanjing Municipal Administration of Culture and Tourism)
Nanjing in autumn mixed with the food aroma of chestnut and the fragrance of osmanthus flowers. A bag of soft, sweet and warm chestnuts would be a good start for your autumn travel in Nanjing. Jinwei Chestnut is small, and the smooth and shiny surface of yellow chestnut kernel is exposed with a shell removed. Having some freshly baked chestnut in the cold late autumn is a ritual only in Nanjing's autumn, and also a detail of happiness in life.