Spring is coming! Time to treat yourself to something just in season! Everything that wakes up from winter hibernation is now ready to wake up your taste buds. Think about the wild vegetables from the fields, freshwater fishes and seafood that come into season in spring. That is all you can expect on a Nanjing tour.
Small Baozi Stuffed with Juicy Pork and Chrysanthemum Indicum
The classic food journey in March and April starts from a steamer of hot soup dumplings as a treat, locally known as small Baozi stuffed with juicy pork and chrysanthemum indicum. The fragrance of the chrysanthemum leaves makes the Baozi even more special, lightly flavored, less greasy and very refreshing. Take great care as you peel them out of the steamer, careful to not break apart the dough and lose the soup. Finally you slurp up a mouthful of the fragrant soup, which will linger on and around your tongue.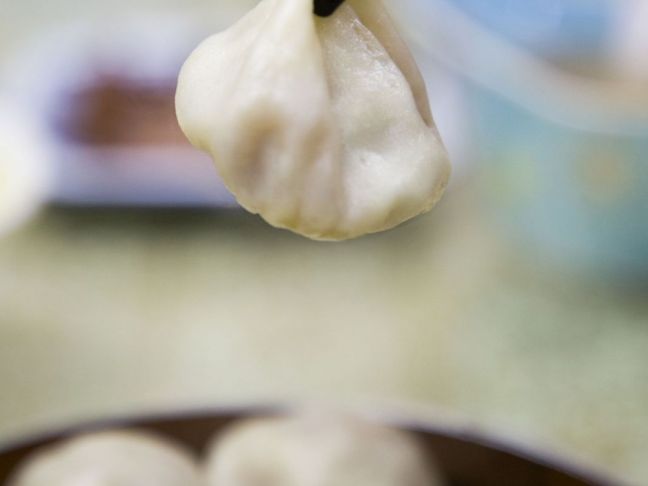 Pic. 1: Small Baozi Stuffed with Juicy Pork and Chrysanthemum Indicum
Fried Eggs with Chopped Chinese Toon Leaves
Toon leaves are prized for their unique, pungent flavor. Before and after the spring rain, the shoots and tender young leaves of toon trees can be made into various dishes on the table of Chinese, especially those living in the south of the Yangtze River. Stir-fry a handful of fresh toon leaves with eggs, and you'll get the "fragrance of spring".
Pic. 2: Toon Pic. 3: Fried Eggs with Chopped Chinese Toon Leaves
Photo by Nanjing China (Copyright for Photographers)
Chinese Ma Lan Tou Tofu Salad
Ma Lan Tou, literally Indian aster, is a typical dish for Nanjingers in springtime. It is better to be simply cooked to retain its umami flavor. Indian aster and dried tofu slices are mixed together with salt, sugar and some sesame oil on top. The fresh vegetable makes the dish all the more tasty.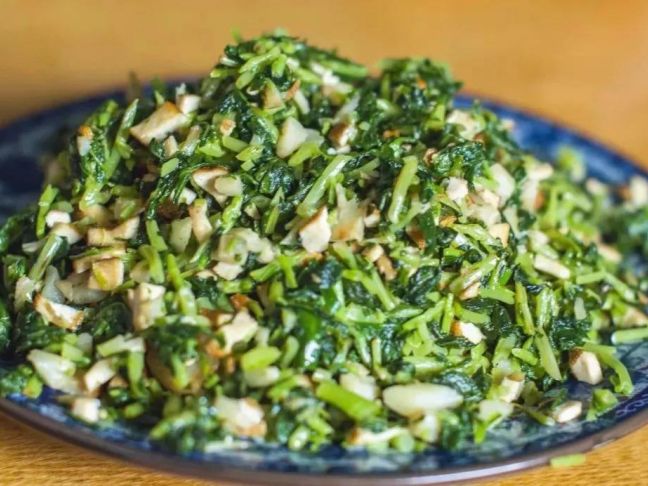 Pic. 4: Chinese Ma Lan Tou Tofu Salad
Photo by Nanjing China (Copyright for Photographers)
Stewed Spring Bamboo Shoots
The Chinese dish known as stewed spring bamboo shoots is often seen in the menus of restaurants and families for its savory flavor when spring comes. Tender bamboo shoots that are unearthed right after the spring rain are simply stewed in salt and sugar. When properly prepared, the dish will be very appetizing with a flavor which can best be described as tender, fresh, salty, and sweet.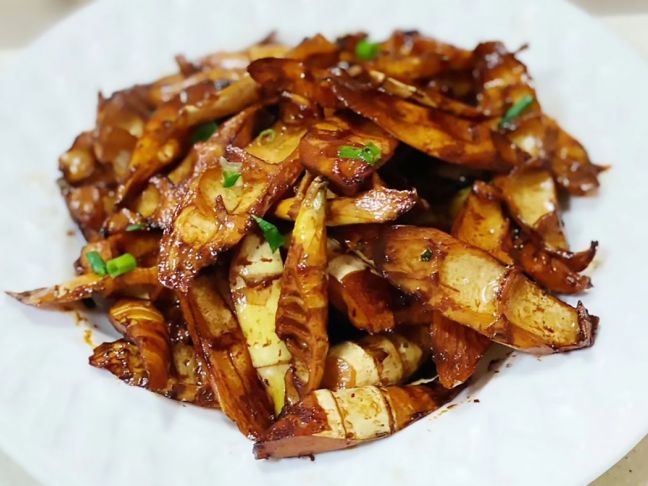 Pic. 5: Stewed Spring Bamboo Shoots
Spring Rolls
Spring rolls are perfect as the starter or dessert for spring days. The golden cylindrical-shaped rolls represent gold bars. Fill the thin wrappers with chopped mustard leaves and shredded pork, and deep-fry the rolls until they are golden brown and crispy. Get a bite and you will feel like spring is just all around you.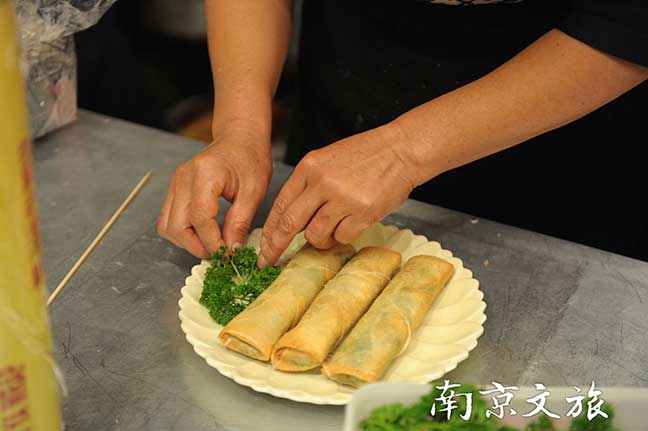 Pic. 6: Spring Rolls
Qingtuan
Eating Qingtuan or sweet green rice balls is a way to welcome the arrival of spring. As a must-have offering in the early spring, the green and soft balls are one of the most sought-after snacks in China. They are made of a mixture of glutinous rice flour and green plant juice. A green plant called mugwort, or "Ai Qing" in Chinese, is what brings the color to the delicacy. Yuan Mei, a poet of the Qing Dynasty, once described such a process of making the sweet green rice balls. The green rice balls can have various fillings, most traditionally being sweetened bean paste, black sesame and date paste. But nowadays some people prefer to make ones filled with salted egg yolk and dried meat floss to create a perfect mix. If you come to Nanjing, don't miss the chance to indulge in the season's best snack!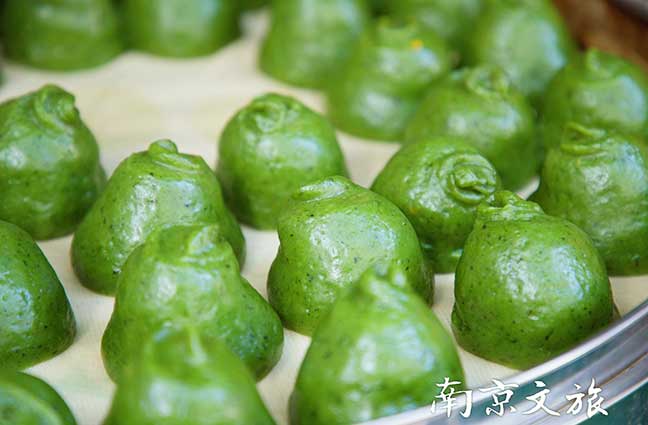 Pic. 7: Sweet Green Rice Balls
Stir-fried River Snails
Stir-fried river snails is a delicacy more popular than goose in April, when the meat of snails is at its finest. The dish is better shared with a few friends and served with slightly spicy marinade.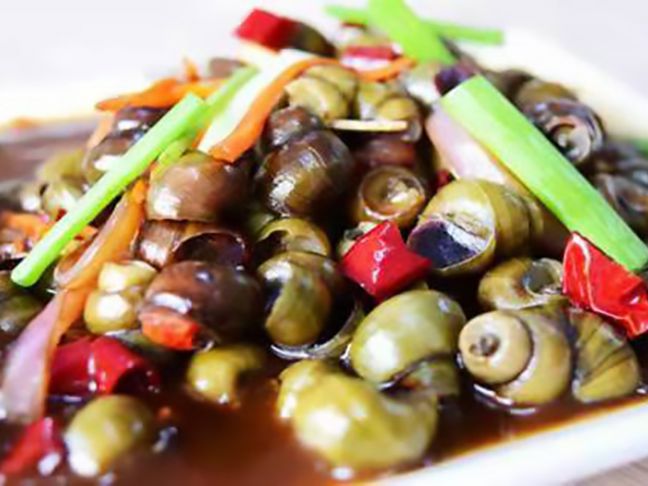 Pic. 8: Stir-fried River Snails
Photo by Gaochun Release WeChat Account
Mussel Tofu Soup
Freshwater mussels become popular dishes in April or May for their clean and juicy meat. They are also said to help prevent people from certain diseases. Try some mussel tofu soup or stew mussels with salted pork to enjoy their fresh and tasty flavor.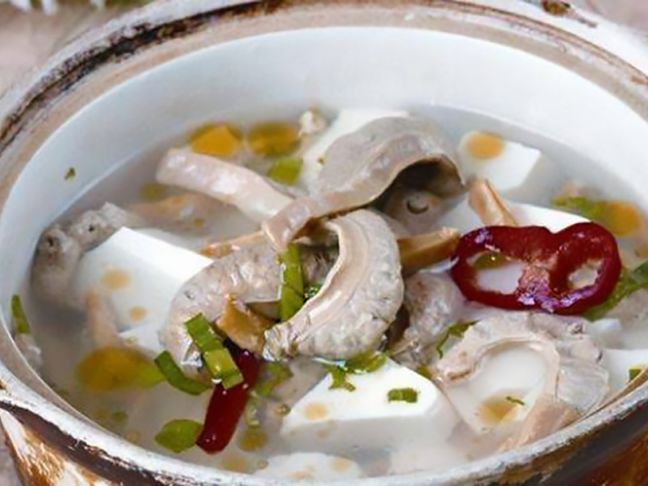 Pic. 9: Mussel Tofu Soup
Photo by Nanjing China (Copyright for Photographers)
Spring delicacies good in color, flavor and taste are the best blessings the season has ever offered. A food journey in Nanjing is an experience to remember for long. Here are the top destinations you can explore in Nanjing!
1. Yongheyuan Restaurant
The Yongheyuan Restaurant was believed to be the birthplace of the famous prose Oar-splashing and Lantern-illuminating Qinhuai River, written by Zhu Ziqing and Yu Pingbo in 1923, when the celebrated writers toured the Qinhuai River and tasted the shredded dried-Tofu in chicken broth and baked pancakes at Yongheyuan. The restaurant was formerly known as Xueyuan Teahouse in 1901 and was renamed Yongheyuan in 1939. It serves all kinds of Nanjing snacks and delicious stir-fries. The most popular dishes include salted duck, duck blood vermicelli soup and mustard dumplings. What fresh on the table in spring are black beans with kale, bamboo shoots and flounder.
Pic. 10: Duck Blood Vermicelli Soup
Address: No.68 Jiankang Road, Qinhuai District
Transportation: 712m walk from Exit 3 of Sanshan Street Station of Metro Line 1
Price: RMB37 per person
Opening hours: 07:00-13:30; 16:30-20:30
Tel: 025-86623363
2. Ma Xiang Xing Halal Restaurant
Situated on the northwest side of Gulou Square, Ma Xiang Xing is one of the oldest restaurants in Nanjing that has served the best delicacies to local communities since it was founded in 1845. The restaurant is prized for the perfect blend of the halal flavor with local ingredients. The 4 must-eats in Ma Xiang Xing are duck liver, batter-fried butterfly shrimps, egg shaomai, and sweet and sour squirrel-like Mandarin fish.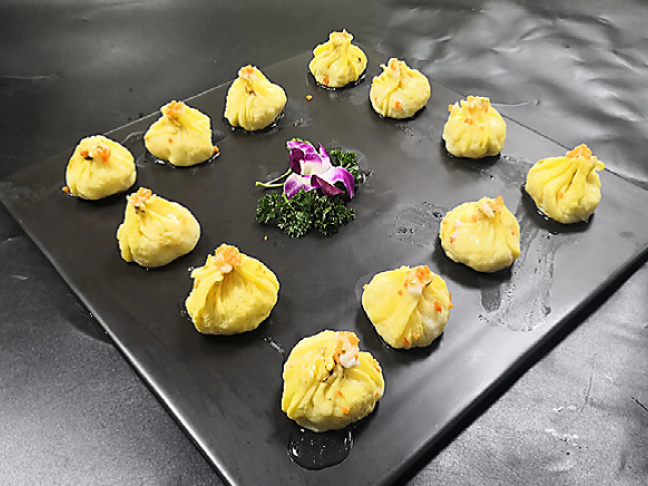 Pic. 11: Egg Shaomai
Address: No.32 North Yunnan Road, Gulou District
Transportation: 897m walk from Xuanwumen Station of Metro Line 1
Price: RMB61 per person
Opening hours: 7:00-20:00
Tel: 025-83286388; 025-83286387
3. Jiangsu Restaurant
Jiangsu Restaurant is quite a popular dining place for Nanjing people. It was founded in 1946, formerly named Yiji Fuxing Restaurant. Since then, it has been reputed as one of the first restaurants to focus on Nanjing local cuisine catering. The dishes in the restaurant stress exquisite preparation and provide enjoyment with well-chosen ingredients, fresh flavor and just the right amount of salt. This puts Jiangsu Restaurant on the hot list of places for dining in Nanjing and attracts numerous businessmen, officials, celebrities and scholars. If you come to Nanjing in spring, the restaurant won't disappoint you with dishes made from spring bamboo shoots, river shrimps and other fresh ingredients.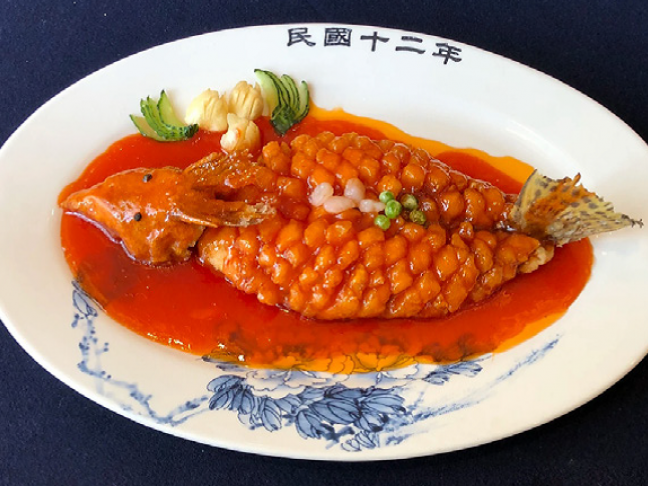 Pic. 12: Squirrel-like Mandarin Fish
Address: No.255-1, Jianning Road, Gulou District
Transportation:
Take Metro Line 1 and get off at Gulou Station (Exit 6); walk to Gulou Bus Terminal and take Bus No. D2 to Siping Road Square South Station and walk 255 meters.
Take Metro Line 2 and get off at Hanzhongmen Station (Exit 2); walk to Huju Road Hanzhongmen Station and take Bus No. 502 to Siping Road Square South Station and then walk 255 meters; or take Bus No. 21 at Huju Road Hanzhongmen Station to Bridge Hotel Station and then walk 117 meters.
Take Metro Line 3 and get off at Nanjing Forestry University/Xinzhuang (Exit 3); walk to Xinzhuang Square South Station and take Bus No. 10 to the Bridge Hotel Station and then walk 117 meters.
Price: RMB112 per person
Opening hours: 11:00-13:00; 17:00-20:00
Tel: 025-83126626
4. QiFangGe Restaurant
The century-old QiFangGe restaurant enjoys a gigantic cult following of foodies locally and abroad for it provides excellent tastes of Nanjing cuisine. The menu highlights Nanjing specialties like typical eight cold dishes, stir-fries such as duck heart with chrysanthemum flowers, chicken heads and wings, and braised Mandarin fish with bean sauce. The local snacks are also a favorite for food seekers, from shaomai stuffed with green vegetables to steamed dumplings stuffed with beef, vegetable Baozi and multi-layer oil cake.
Pic. 13: Delicacies in QiFangGe Restaurant
Address: No.12, Gongyuan West Street, Qinhuai District
Transportation: 540m walk from Exit 2 of Fuzimiao Station of Metro Line 3
Price: RMB34 per person
Business hours: 9:30-20:30
Tel: 025-86623159
5. Green Willow Halal Restaurant
Green Willow reminds its consumers of everything about spring by its name and also the cuisines that create the most wonderful flavors of the season. Established in 1912, the restaurant has been known for its vegetarian steamed buns and sautéed assorted vegetables. The vegetable buns, in particular, enjoy high reputation among locals for their white, fluffy skin as well as fresh and sweet fillings. Another specialty brings no less than ten kinds of seasonal vegetables to the table.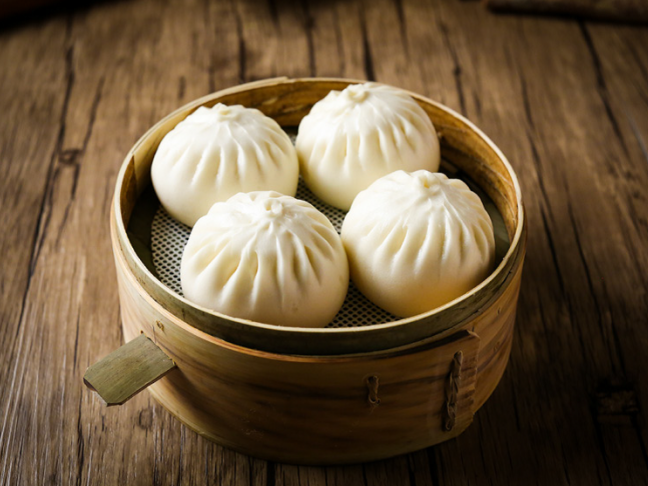 Pic. 14: Vegetarian Steamed Buns
Address: No. 248 South Taiping Road, Qinhuai District (near Taiping Mall)
Transportation: 60m walk from Exit 4 of Changfu Street Station of Metro Line 3
Price: RMB54 per person
Opening hours: 7:00-20:30
Tel: 025-86643644
6. Nanjing Impressions
Nanjing Impressions has made a name for itself in the city for serving delicious local cuisine in an antique setting featuring Chinese couplets, lanterns, traditional courtyard and food stalls that seem to bring diners back to the old days. Seasonal ingredients such as mussels, toon leaves, spring bamboo shoots, broad beans, shepherd's purse, mugwort, Indian aster and river snails can be found in Nanjing Impressions. All these are delicious blessings for our taste buds!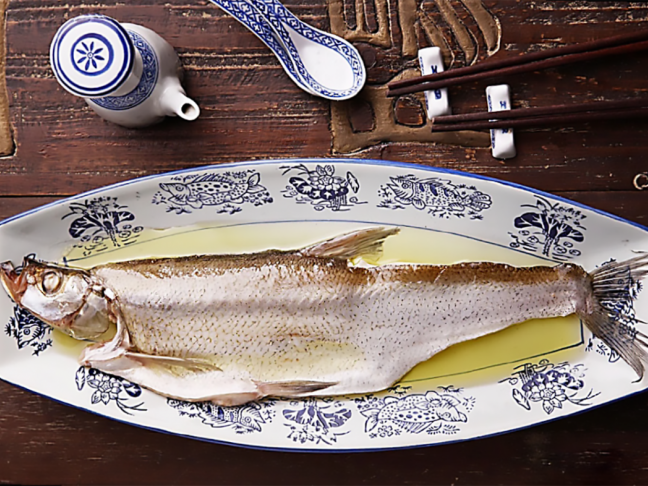 Pic. 15: Steamed Culter
Address: No. 248 Taiping South Road, Qinhuai District
Transportation: 60m walk from the Exit 4 of Changfu Street Station of Metro Line 3
Price: RMB39 per person
Opening hours: 7:00-20:30
Tel: 025-86643644
7. Must-visit Qingtuan Stores in Nanjing
Auntie Xu's Qingtuan Store

Filling recommendations: salted egg yolk and dried meat floss, bean paste and sesame
Address: No.1 Puhua Lane, Qinhuai District
Transportation:570m walk from the entrance of Daxinggong Station of Metro Line 2/3
Price: RMB24 per person
Opening hours: 7:00-19:00
Tel: 13770647962; 13404177653

A Bite of Qingtuan

Filling recommendations: salted egg yolk and dried meat floss, bean paste, sesame, dried bamboo shoots and pork, vegetable and shrimp, chestnut and dried meat floss
Address: No. 4-2 Jinxiufang, Huiyuan Street, Qinhuai District, Nanjing
Transportation: 460m walk from Exit 1 of Fuzimiao Station of Metro Line 3
Price: RMB15 per person
Opening hours: 5:00-20:00
Tel: 13852280617