Nanjing has become a sleepless city nowadays and is full of vitality of a modern metropolis at night. If you don't know how to spend the unexpected pockets of time in Nanjing during the nighttime, just follow our guide here.
Nanjing Poly Grand Theatre
For people who are into concerts, Nanjing Poly Grand Theatre, the new landmark of Nanjing, is definitely a must-go place. The theater is located in the Nanjing International Youth Cultural Centre, which was designed by the world-renowned architect Zaha Hadid and listed as one of the most impressive modern architectures in Nanjing. It includes a grand theater with 1917 seats, a concert hall with 441 seats, as well as small and medium-sized conference rooms and other facilities. All kinds of activities are held here, ranging from magic shows, musical plays, ballets, concerts and acrobatics to events. The performances with great visual appeal allow the audience to have sensory immersion in the fancy music and dance world.
Nanjing Eye Pedestrian Bridge
Besides the spiritual pleasure of a concert, you may take a walk on the first bicycle and pedestrian bridge over Yangtze River near the theatre – "the Nanjing Eye". The bridge was built in 2014 during the 2nd Youth Olympic Games in Nanjing, with a total length of 827.5 meters and a main span of 240 meters. Two main towers of the bridge could be associated with two shinning eyes, and that's why it was named the Nanjing eye. It connects Jiangxin Island with Nanjing Hexi New Town. The best time to visit is when the sun goes down and the lights are turned on. As the whole bridge becomes illuminated, it's such a wonderful experience to traverse the bridge, whose steel cables are somehow like the strings of the harp, composing a city music mixed from the sounds of cars, people, wind, rivers… And of course, nice pictures of the illuminated bridge could also be captured to remind you to go back someday.
Confucius Temple area
For a foodie, Hunan Road, North Taiping Road, East Zhongshan Road, Shanxi Road and Confucius Temple have always been the first choices. Local residents flock to those gourmet streets to satisfy their palate with different kinds of delicious cuisines. Everything that one expects to find, from eateries, to restaurants, teahouses and street food, has scattered all over the street. Can you imagine that there're more than 200 snacks in Confucius Temple area? Isn't it mind-blowing?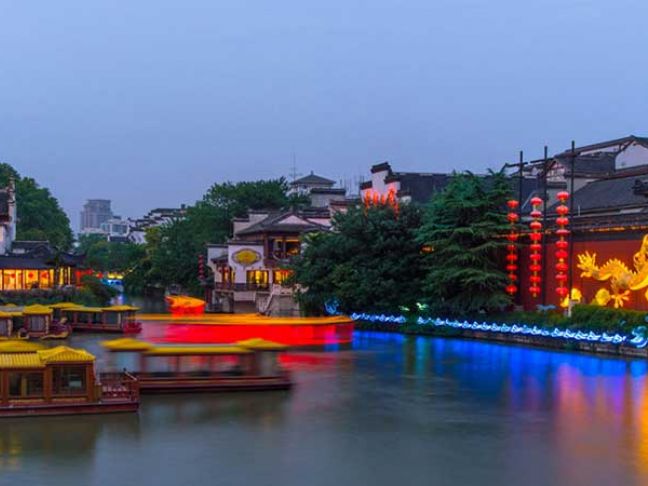 If you don't want to stay sober, there're a bunch of bars to choose from. Below we're going to introduce you some popular expat bars to drink in.
Brewsell's
A fabulous Belgian bar of an American owner. It's an ideal meeting venue for those who prefer tranquil and soothing environment. A fine selection of draft beers and snacks on the menu make it one of the quintessential hangouts in Nanjing. It offers comfortable indoor as well as outdoor seats.
Average spend per person: 78 RMB
Tel.: 86 25 58779429
Address: No. 77 Shanghai Road
Talking
Talking is located just a few hundred meters away from Brewsell's. Both of them are in close proximity to Nanjing Normal University and Nanjing University, so they're especially popular among students. As a chain pub, it has several locations aside from this one. For a budget traveler, it's a nice choice to booze up with the wide variety of drinks. We strongly recommend you to try the signature dish - the fried chicken feet, and accompany with its relatively inexpensive but refreshing drinks. There's no reason not to get back here a second time.
Average spend per person: 74 RMB
Tel.: 86 25 83323969
Address: No. 158 Shanghai Road.
To discover more about the night life in Nanjing, you may hang around the 1912 clubbing area, where pub-crawl is possible with all kinds of bars and discos gathering here. With so many unique charms Nanjing has to offer at night, why not unleash your inner wildness to drink and rock until you see the sunlight?