On December 28th, 2016, it was learned from Nanjing Metro that the high-profile metro line 5 construction project, as the first one to adopt the PPP (Public-Private Partnership) mode, officially commenced. It's jointly invested by Greenland Holding Group Company Limited and Shanghai Tunnel Engineering Co., Ltd. with a total investment of up to 20 billion RMB. The project is scheduled to be completed as early as 2021.
The signature color of Line 5 is set to be grey blue. The metro line consists of 30 underground stations with a total length of 37.4 kilometers and an average station spacing of 1.26 km. The highest speed of the line 5 is estimated to be around 80 km/h, which equals to the speed of line 1 and line 2, while slightly slower than the upcoming line 4. The train runs from Jiyin Avenue of Jiangning District in the north till Fangjiaying station in the south, covering Gulou District, Qinhuai district and Jiangning District. When Line 5 is in full operation, it is expected to be one of the busiest metro lines in Nanjing to transport thousands of passengers every day.
As the line will pass through many protected historic sites, plus most of the stations are surrounded by trees, the construction side had applied for approval from relevant environmental authorities regarding the historic preservation issues before the project officially kicked off. In December last year, the preparatory work before construction started from greening removing along the stations of line 5. There are 9 different species of trees to be transplanted, including plane-tree, pagoda tree, camphor, privet, cedar, goldenrain tree, pterocarya stenoptera, acacia and zelkovas, which are lined along 18 primary and secondary roads or streets, such as Mochou Road, Shanghai Road, Yunnan Road, Zhongshan North Road and etc. To keep pace with the progress of the project, trees are moved mainly at night, so the transplanting work at 15 stations can be finished by the end of March; a few evergreen trees like camphor are scheduled to be transplanted in April, when the weather gets warm.
Line 5 is designed to be the primary transport hub in the future, with 30 stations to be constructed, 14 of which will be transfer stations connecting with other metro lines.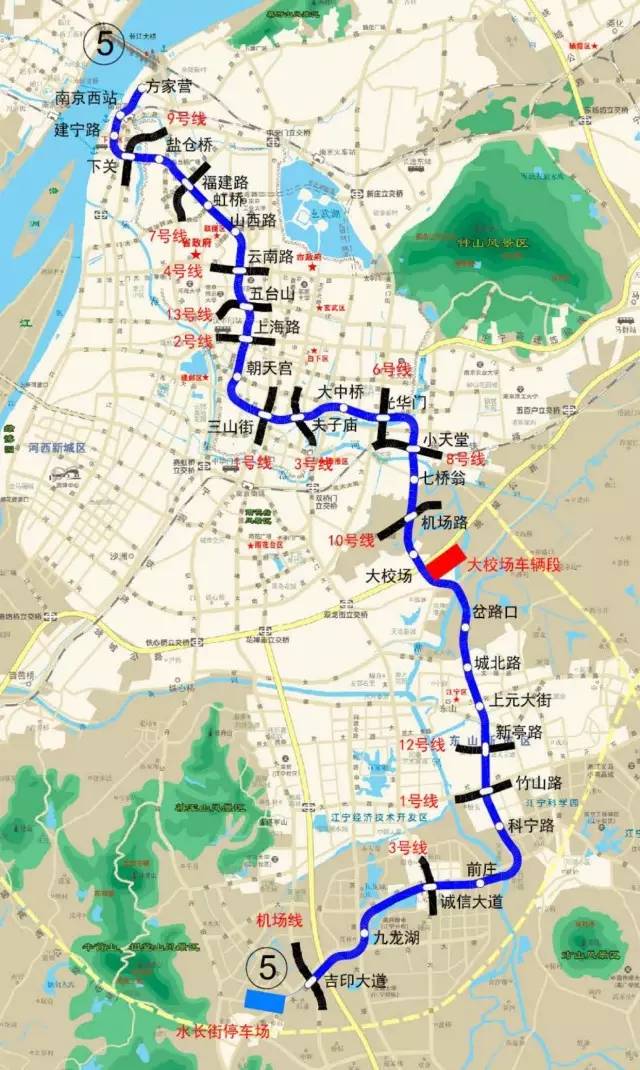 Source by http://nj.bendibao.com/traffic/201716/64356.shtm