The Memorial Hall of the Victims in Nanjing Massacre by Japanese Invaders
This memorial hall stands on the site of the massacre at Jiangdong Gate during the Nanjing Massacre and "Mass Grave of 10,000 Corpses". It was completed and opened to the public in August, 1985, and was expanded first from 1994 to 1995, and then from 2005 to 2007. It covers an area of about 74,000 square meters with a floor space of 25,000 square meters and an exhibition area of 9,800 square meters. The new memorial hall was completed and opened to the public on December 13, 2007, the 70th anniversary of the Nanjing Massacre, which claimed 300,000 Chinese victims. The new hall is shaped like the bow of a ship that rises high above the ground, representing 'the Ship of Peace'. Its profile looks like a broken saber. Seen from above, it resembles a sword turned into a plowshare. The new hall was designed by architect He Jingtang from South China University of Technology while the old by architect Qi Kang from Southeast University. Both designs are distinctive in style and innovation.
Functionally it is divided into four areas, namely the area for exhibition and assembly, the site of the massacre, Peace Park, and an area for collection-related exchange. It is a site-based memorial museum of history. It is also a Demonstration Base for National Patriotic Education and Cultural Relics under the Protection of the State.
No.418 Shuiximen Street, Jianye District
Metro Line 2/ Yunjinlu Station. Bus Y4,7,37,61,63 / Jiangdongmen Stop
Free
8:30-16:30 (Closes every Monday)
+(86) 25 86612230
www.nj1937.org
Nanjing Silk Brocade Museum
Yunjin is a kind of brocade, a type of richly decorative shuttle-woven fabric, often made in colored silks with gold and silver threads. Its elegant and refined design with beautiful colors is reminiscent of clouds in the sky, so it is named "Yunjin" (Cloud Brocade or Yun Brocade).
Yun Brocade of Nanjing is a remarkable masterpiece of Chinese traditional culture. The traditional hand-weaving technology of Yun Brocade has a long history of about 1500 years, which has been listed as an Intangible Cultural Heritage. It is reputed by the public as "the oriental treasure" and "a Chinese miracle".
The Yun Brocade Museum is the first brocade weaving art museum in our country. It includes: "Yun Brocade weaving manufacture", "Exquisite Yun Brocade collections", "Ethnic Brocade Weaving Performance", "Finished Product of Yun Brocade displaying".
No.240, Chating St (East), Jianye District
Metro Line 2 / Yunjinlu Station, Bus 204, 7, 37, 61, 63 / Jiangdongmen Stop
Free
8:30-17:00
+(86) 25 58825757
www.njyunjin.com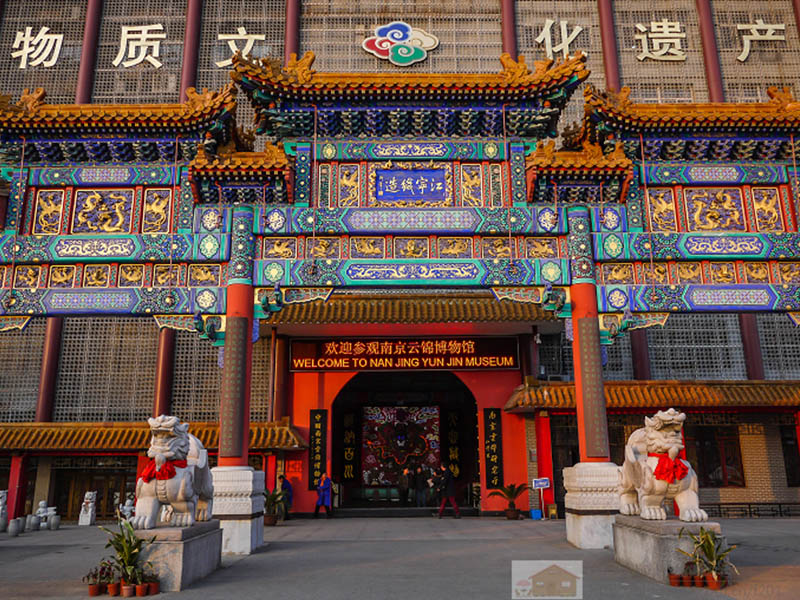 Source by Nanjing Silk Brocade Museum
Nanjing Municipal Museum
The Chaotian Palace, is located in Nanjing, China. It was built as an imperial palace in the Ming Dynasty, and today it is the Nanjing Municipal Museum. The palace covers an area of more than 70,000 square meters. The total building complex consists of three lines, with the central complex being the Wen Temple, which was built with precious materials, and the its yellow glazed tile was from Jingdezhen, Jiangxi province. Inside the palace, there are more than 100,000 cultural relics in collection.
The place was once the Imperial Central University (Zongmingguan) in Song Dynasty of Southern Dynasties. Chaotian palace was first built by Hongwu Emperor in late 14th century during the early Ming Dynasty, and it was used primarily by members of the royalty for 'veneration of ancestors'. The complex was burnt down during the Taiping Rebellion, and the present buildings were built from 1866-1870 when Nanking Academy (Jiangning Fuxue) moved there from its former site south to Qintian mountain.
The palace contains many halls, and was once used as a Confucian academy, and contains numerous important structures. Today, the palace is a popular tourist attraction in the city.
On the west side of Chaotian Palace scenic area is the memorial temple of Bian Kun, the famous minister of the Eastern Jin.
No.4 Chaotiangong, Qinhuai District
Bus 4, 48, 82, 83 / Chaotiangong Stop
20 RMB
8:00-16:00
+(86) 25 84200177
www.njmm.cn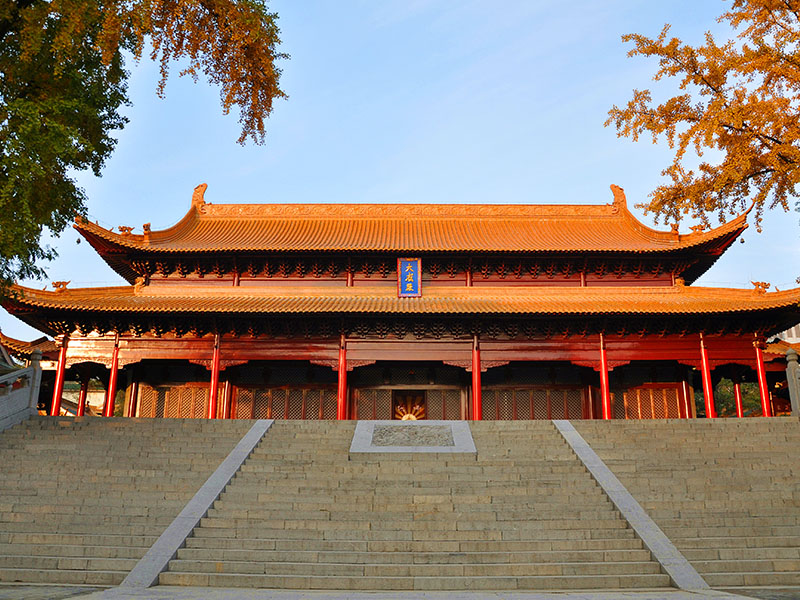 Source by Nanjing Municipal Museum