Of all the cities in China, I finally chose Nanjing to spend my summer holiday with my family. The place was selected for several reasons: its richness in culture and history, the vitality of its modern life, the daintiness of all the snacks and street food, and most importantly, it's a paradise for children. Nanjing offers us so many entertaining options that it's hard to decide where to begin. Therefore, we planned a 3-day trip to fully savor the joy of the journey.
Day 1: Nanjing Purple Mountain Scenic Area
We started our first day trip from Purple Mountain Scenic Area. It covers an area of 31 square kilometers with as many as 200 historical sites scattering around three core scenic spots – Dr. Sun Yat-sen's Mausoleum, Linggu Temple and Xiaoling Tomb of Ming Dynasty. Children under 15 years old may not be able to well understand the history and culture behind the relics, but they could have a look around the spectacular scenery here. In our case, we took them to Zhongshan Botanical Garden in the morning and Nanjing Marine World in the afternoon.
Nanjing Zhongshan Botanical Garden
Nanjing Zhongshan Botanical Garden, with the southern garden and northern garden inside, has an area of 186 hectares and preserves more than 3,000 plants. The northern garden is served as the preservation and research center of subtropical plants, while the southern garden is newly built to cultivate the tropical plants in 11 different areas such as greenhouse, grass species garden and aquatic plant garden. Children were so excited to explore the mysterious plant kingdom there.
Nanjing Marine World
Nanjing Marine World is a four-story building with a dolphinarium covering an area of 1500 square meters, which could accommodate nearly one thousand audiences. Having heard that more than 200 species and up to 10,000 ocean fishes were kept here, kids dashed into the aquarium. They were so curious about the wonderful undersea world, and wanted to get closer to the cute king penguins from the Antarctica, polar bears, arctic foxes, sea lions and other marine mammals. Besides, the transparent acrylic tunnel also provided lots of fun for all of us. Walking along it, we felt like being surrounded by the colorful coral fishes with ferocious sharks coming straight towards you from time to time.
One thing you should never miss is the dolphin show at 10:00, 12:00, 14:00 and 16:00 on a daily basis. Beyond that, you can watch the fish feeding at 11:00 and 15:00, the mermaid show at 9:00 and 13:00, the penguin feeding at 10:30 and 15:30. All these shows are very popular and hold appeal for children.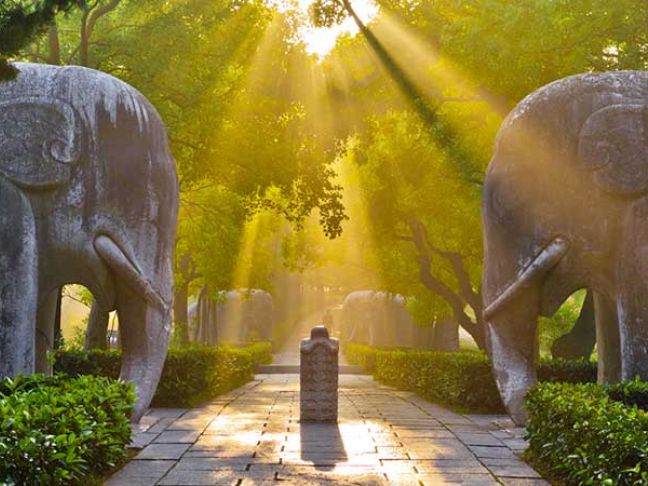 Source from Nanjing Purple Mountain Scenic Area
Day 2: Nanjing Hongshan Forest Zoo
In the zoo, a total of 39 houses and habitats were built by the mountain to accommodate up to 300 species of animals, including the White Tigers from Germany, the ring-tailed lemurs from Canada, the mandrills from Japan, the chimpanzees from South Africa, etc. No wonder my children were so obsessed with the world of wild life. They even had an eye-to-eye encounter with some national protected animals, such as giant pandas, golden monkeys, gibbons, langurs, red-crowned cranes, northeast tigers, red pandas, green peacocks and Yangtze alligators. We also learnt that animal shows were performed daily by the schedule. Besides, we had a smashing time in the 5D cinema, not to mention the recreation area in it, which was equipped with all sorts of facilities, including ferry's wheels, bumper cars, carousels and etc.
This place was so much fun that we stayed there until 16:30 when the zoo was closed. The zoo was so mind-blowing that no one ever wanted to leave. We highly recommended it for visitors with children, because by seeing different species in nature and exploring the secrets of wild life, children get to learn about the truth of life and show more respect for life.
Warm tips: there are McDonald's and Kentucky restaurants by the north entrance of the zoo. You could either buy some food from there before going inside or try the snacks in the eateries inside the zoo for your rumbling tummies.
Day 3: Nanjing Happy Magic Water Cube
Here came the most exhilarating day of our Nanjing trip. Time to get wet and wild! Among so many water parks in China, few could match the fun in Nanjing Happy Magic Water Cube. It's able to accommodate 30,000 people and consists of six areas: Exciting Surfing, Leisure Beach, Magic Sliding, Kid's Area, Fantastic Drifting, and Spa Area. It provides the adults with the unique opportunity to splash around at one of Asia's largest tsunami surfing pools, which is capable of holding 20,000 people. Just imagine how thrilling it would be when the 3-metre-high waves strike down and you lift your hands up against the water wall.
What's more, you would be delighted to see the hot samba, sexy sailor dance, vibrant disco… All of these together pump up the surfing. As for the kids, there's a special area with ladders and sliders prepared for them to have fun in a safe environment. And don't skip the most fun part: 10,000 meters of real sand beach dreamed of by every kid! Kids are never going to get tired of making creative sculptures from sands and hunting for gems in the sand.
I'd say it's an ultimate child-friendly place and meanwhile a perfect spot to beat the heat in Nanjing. Get ready to put on your swimsuit and splash around here!
Warm tip: to avoid the sunburn please remember to take the sunscreen for both adults and kids.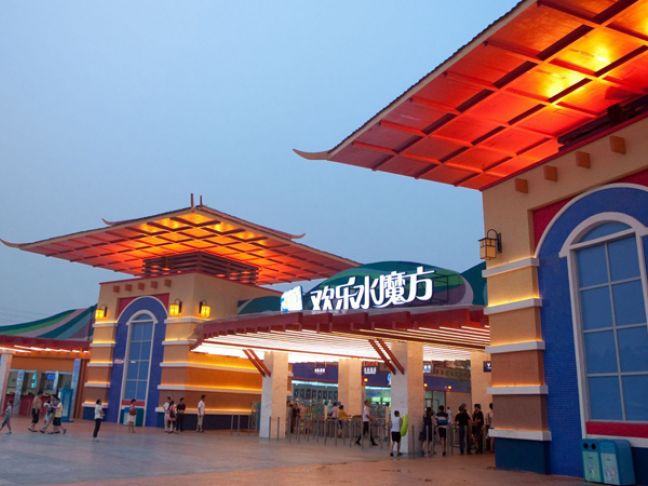 Source from baike.baidu.com
My family and I had an unprecedented experience full of great memories in Nanjing. Michio Hoshino, the famous Japanese wildlife photographer, who devoted his life to discovering the bond between human and nature, once wrote in his book: "The scenery we saw in our childhood will remain in our mind forever. When we grow up and the roads of life converge into the future, it's the scenery left in our mind that would enlighten the soul, not the words we read or heard." So, go ahead to explore new destinations with your kids!