Tangshan Hot Spring Resort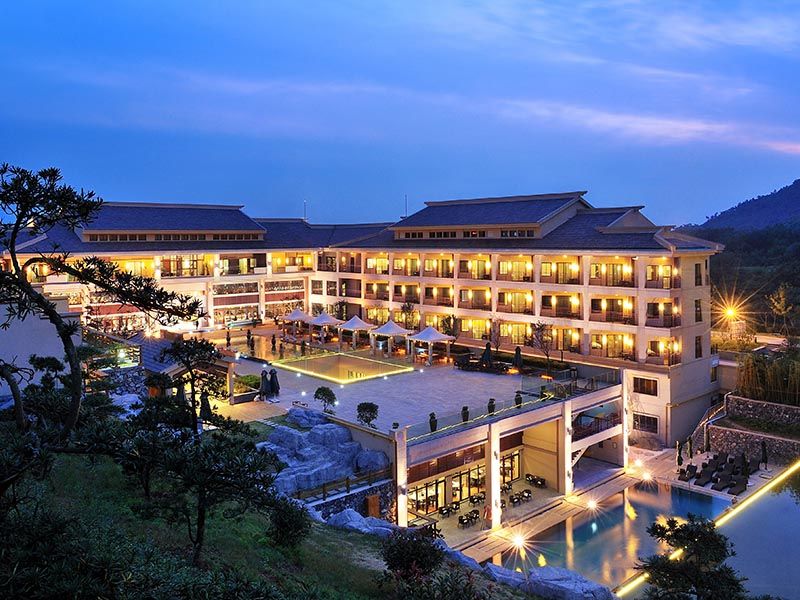 Source by Tangshan Hot Spring Resort
Tangshan is situated in the eastern suburbs of Nanjing, 28 km away from the city proper. Tangshan is famous for hot spring, which is developed into a resort of tourism, leisure and holiday.
Tangshan is named after its hot spring and green mountains. As early as 1,500 years ago, there was poems composed by emperors, the Emperor Wu of Liang (502–549 AD), for instance, entitled Tangshan hot spring as "holy hot spring", for his mother had suffered from chronic dermatosis and recovered by the hot spring bath. Henceforth, Tangshan hot spring has always been connected with nobilities and celebrities, forming a profound heritage of hot spring culture, and enjoying the reputation of "The Number 1 hot spring in China".
During the Republic of China, Tangshan is a place of celebrities' gathering, President Chiang Gai-shek and Madame Chiang had been to the hot spring villa to make holidays for a number of times after their wedding ceremony, Yu Youren, Dai Jitao and the other famous men of the era possessed leisure and holiday villas.
There are many scenic spots, tourist attraction, historical relics and monuments in Tangshan. The karst cave groups are situated in the area and known for the discovery of fossils of the Nanjing Man. The Yangshan Tablet Stone (the Ming Culture Village) Tourist Attraction is the national AAAA-class tourist attraction, where tourists can not only visit the world's largest 600 years' tablet stone authorized by the Guiness World Records but also enjoy the Ming folklores and local everyday life. Tangshan (Hot Spring Mountain), Kongshan, Tangquan Lake, Anji Lake are picturesque for green mountains and clear waters. Tangshan is ranked in the National Geopark of China for its hot spring, karst caves and complete geological section.
Tourists can enjoy rural tourist activities, taste local delicacies, pick up green ecological fruits and vegetables and experience local rural life.
Transportation:
Bus 123, 金汤线, 208, 汤孟线, 汤湖线, 宁句线, 汤龙线/汤山, Tangshan stop
Address:
Tangshan Town, Jiangning District