Xinjiekou Commercial Circle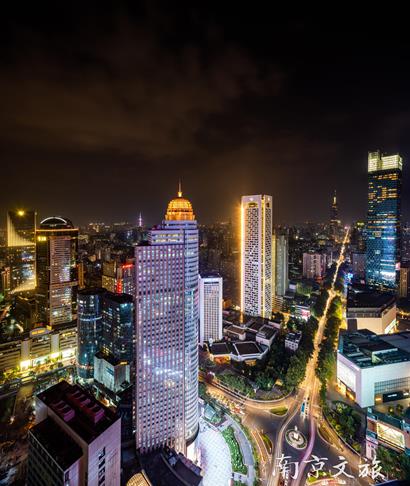 Xinjiekou is the central business district located in the center of Nanjing. With nearly 1,600 shops and stores here, this dynamic commercial area is the paradise where you must check in when you come to Nanjing for its best products and cuisines.
Attractions nearby: Bronze Statue of Sun Yat-sen; Dahua Grand Theater; Xinjiekou Pedestrian Street
Cuisines: Nanjing cuisine, hotpot, barbecue, Cantonese cuisine, seafood, Sichuan cuisine, Zhejiang cuisine, Chinese pastries, tea, coffee, beer, Japanese food, Korean food, etc.
Tips for Shopping:
Deji Plaza: the largest luxury center on Xinjiekou, with 95% of the world's luxury brands gathering here.
Golden Eagle International Department Store: high-end shopping destination for people who are looking for top-quality goods.
Central Shopping Mall: the first large department store in Nanjing with a history of over 80 years, where you can get mid-range daily necessities.
Grand Ocean Department Store: a domestic chain department store brand that provides good bargains to the masses.
Xinbai: one of the long-established department stores in Nanjing beloved by the working class for its mid-range products.
Fashion Lady Shopping Plaza: an underground mall that has lots of small shops with fashionable items, which may be of very different quality-just keep your eyes open.
Confucius Temple Area & Aqua City
Confucius Temple Area is within walking distance to Sanshanjie Station of Metro Line 1. It has been the most bustling local cultural and modern commercial center in Nanjing.
The Aqua City, a shopping mall located in this business area, is known for its water landscape flowing through the structure. Shopping, leisure, dining, entertainment, sightseeing and cultural experience...there is so much to expect. It is indeed a nice place to shop in its international brand stores or just relax yourself in the food court or cinema.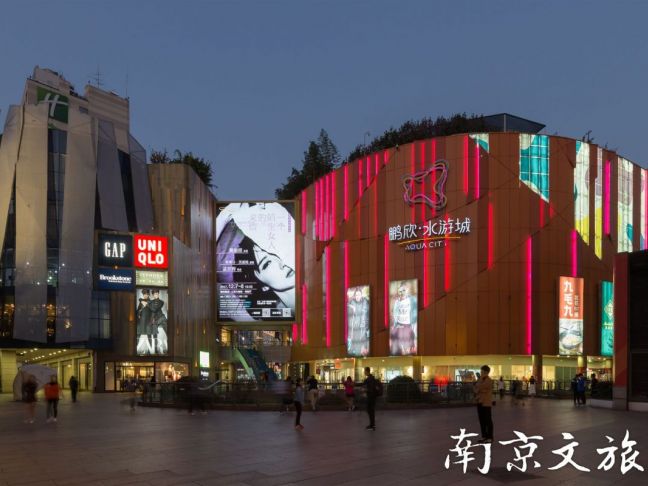 Tips for Shopping:
Confucius Temple Area: a must-visit destination for young people to walk around in the specialty stores and buy some small items.
Aqua City: where you can find the latest fashions with reasonable prices.
Address: Central Square of Confucius Temple Area, Qinhuai District, Nanjing
Famous attractions:
Confucius Temple Exhibition Hall (Dacheng Hall): CNY 30/person
Dacheng Hall and the Former Residence of Wang Xie: CNY 32/person
Learn more about Confucius Temple.
Baijia Lake Business District

Baijia Lake Business District (Baijiahu), located at the heart of Jiangning Development Zone, Nanjing, features stunning scenery and dynamic night life. You won't miss its iconic Phoenix Terrace (Fenghuang Tai) and Bailong Square, the largest public entertainment square. On a clear night, you may have a pleasant night walking around Baijia Lake 1912 Block, taking photos under the sky wheel or idling around in a local pub.
Address: Baijian Lake 1912 Plaza, Jiahu East Road, Jiangning District, Nanjing
How to get there: Subway Line 1 to Baijiahu Station
Laomendong (老门东)

Laomendong locates in the Qinhuai District, east of the Zhonghua Gate in Nanjing. It is also called the East Zhonghua Gate Historical and Culture Block, where distinctive and traditional century-old folk houses are gathered. It has been a residential place for businessmen, scholars and great families of Southern China. Travellers can stroll around the whole historical site from Changle Road in the north all the way down to the Ming Great Wall, or head east toward the Jiangning Road. On this trip, you will be impressed by the art of Nanjing scripture engraving, the melody of Nanjing Baiju Opera and the cross talk of the famous Deyun Society. Folk crafts such as handmade kites, cloth paintings, bamboo carvings, paper-cutting and marionette will also add fun to your journey. A trip to its night market is a must if you are excited about the local gourmet food.
Opening hours: Full day
Tel.: +86 25 58776868
Address: No. 63-2, Jiangzi Alley, Fuzimiao Community, Qinhuai District, Nanjing
How to get there:
Take Subway Line 3 to Wudingmen Station (Exit 2), and then walk for about 854m
Take Bus No. 14, 46, 88 to Gutong Alley
Take Bus No. 23, 33, 43, 63, 81 and 301 to Pipa Alley
Take Bus No. 701, 706 to Junshi Alley
Learn more about Laomendong.