The autumn palette in Nanjing highlights a full and gorgeous color, thus the tone is of a decorous feeling. This autumn impression may embrace a rain, a leaf, a road, a cup of tea, and a city wall. It fits well with the history of the six dynasties in Nanjing and is in harmony with all the details of the ancient city of Nanjing. Both flamboyance and solemnity get their places in autumn of Nanjing, the atmosphere is poetic, tempting visitors to come for sightseeing and relaxation. It is quiet but warm, loose but rich, like a poem, powerful and mature. This is the gorgeous autumn of Nanjing, where autumn landscapes, food, history leave their traces for us to follow.
As the saying goes that a single leaf can herald the coming of autumn, we clearly know it is autumn in Nanjing when leaves, grasses and mountains turn into their unique colors of this season.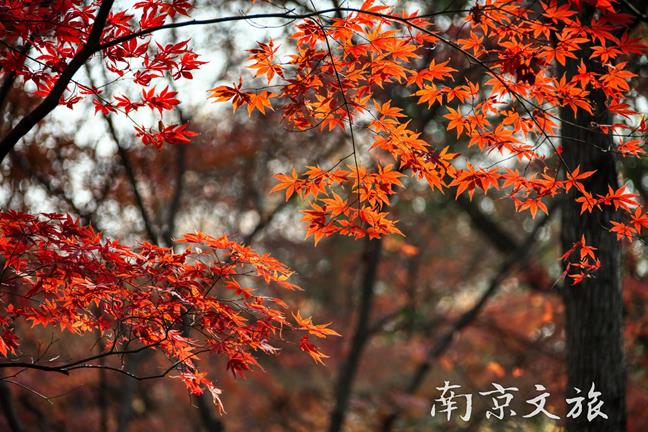 (Photo: maple leaf; Source: Nanjing Municipal Administration of Culture and Tourism)
Immersed in the 600-meter long Sacred Path in Xiaoling Tomb of Ming Dynasty, the red and yellow here create a romantic scene exclusive to autumn. Pacing on this road, visitors seem to walk through the time tunnel to see exactly what ancient people in Jinling (the ancient name of Nanjing) saw. Planted with plane trees, nearly 100 western-style buildings on both sides of Yihe Road are distinctively designed. The yellowing leaves are blown away by the autumn wind, reminding the Republic of China (1912-1949) from boom to bust. With cool autumn wind, the ginkgo trees planted in Qingliang Hill are overwhelming, no matter look up or look down, what greet are golden ginkgo leaves, presenting one of the most impressive colors of Nanjing's autumn.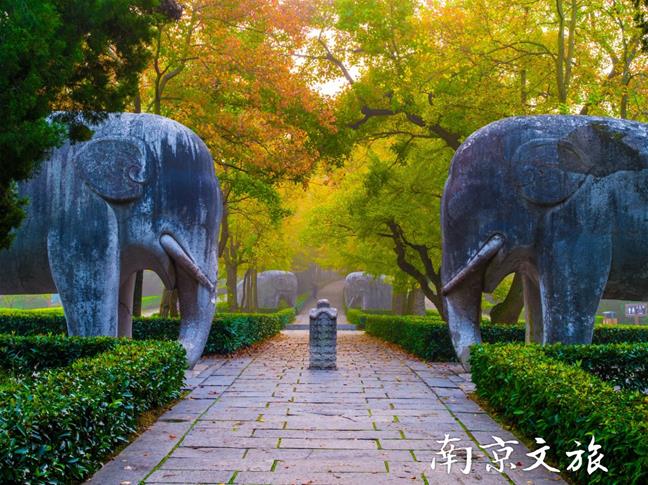 ( Photo: Sacred Path in Xiaoling Tomb of Ming Dynasty in autumn; Source: Nanjing Municipal Administration of Culture and Tourism)
Abundant products are available, and delicacies only in the fall are offered to visitors to "taste" Nanjing's autumn.
Osmanthus trees are not only the source of autumn fragrance in Nanjing, but also the fresh ingredients used for Nanjing cuisine. For example, the Osmanthus Cake that is recommended to enjoy in autumn. Osmanthus flower is added to the soft and sweet osmanthus cake, making it sweet-scented and delicious. "Crab feet and roe are at their best when the west wind blows." Autumn is the best season to taste Gucheng Lake crabs as the crab meat and roe are the fleshiest. You can't miss the Marinated Crab with Huadiao Wine or the Crab Roe Tangbao. And chestnut, the golden, soft, sweet-smelling street snack which you can hold hot in your hands is perfect for warming yourself up against the chilly autumn wind.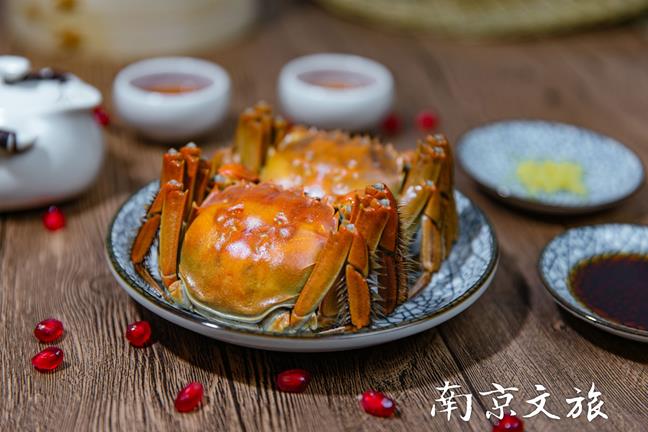 (Photo: golden autumn with crab delights; Source: Nanjing Municipal Administration of Culture and Tourism)
In Jinling, the ancient capital with thousands of years of history, you can feel autumn just by walking and looking. Since the weather is cool and pleasant in autumn, why not take this opportunity to visit Nanjing's historical and cultural attractions as an autumn pleasure? The City Wall is a good place to overlook Xuanwu Lake and Zhongshan Mountain. The red and yellow tones of ancient temples are complemented well with surrounding natural scenery. Tangshan Hot Spring and Wuyi Lane worth your visits. The traditional Chinese courtyards in Laomendong Pedestrian Street are embellished with looming yellow leaves in details.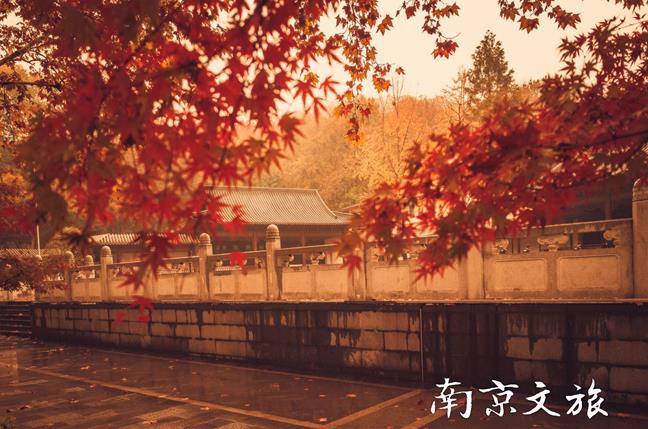 (Photo: Qixia Mountain; Source: Nanjing Municipal Administration of Culture and Tourism)
Nanjing's autumn is otherworldly but still available. Here you can enjoy vibrant landscape, elaborate but common food, and the fun rooted in history. Nanjing is full of autumn flavor, just waiting for your taste.